Usually, things are generally made with the purpose of looking pleasing to the eyes alongside a bit of practicality. Though, these designs shouldn't be on this planet in the first place and are probably better off just not existing. Whoever designed these clothes, furniture, or anything else, should really retire from anything that requires eyesight. Keep reading to see the most un-aesthetically pleasing designs that are basically so strange that you won't be able to look away.
A USB Stick You'll Never Want to Touch
Hidden within the two front teeth of these dentures is a memory drive. It's gross and hard to look at, but this is a genius way to make sure everyone keeps their hands off of your USB drive. Indeed, they could have gone with anything other than a pair of teeth, but this was the method of choice for some reason. This is a computer accessory you won't find in stores.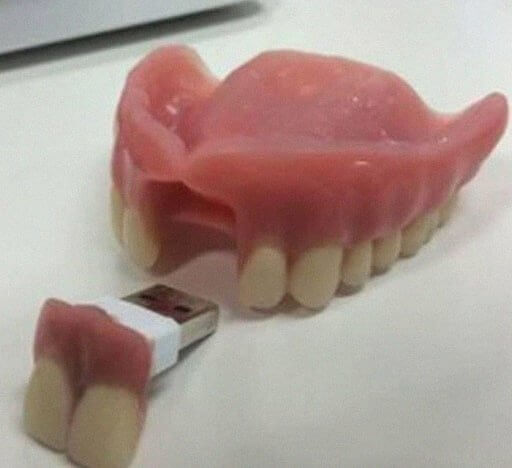 Hopefully, this thing hasn't been inside anyone's mouth for denture purposes, or else that would make this image much grosser. Though, that is a good hiding spot for classified information.
The Nail Salon Took This Too Far
We're not sure why these fingernails are now half-smoked cigarette stubs. The customer in the picture actually went to the nail salon and requested to get highly realistic cigarette art on their fingers instead of a solid, standard color like red or blue. This person must really love smoking; otherwise- there's no practical reason as to why someone would decide to get these done. Even the burn marks look natural. You can practically smell these through the photo.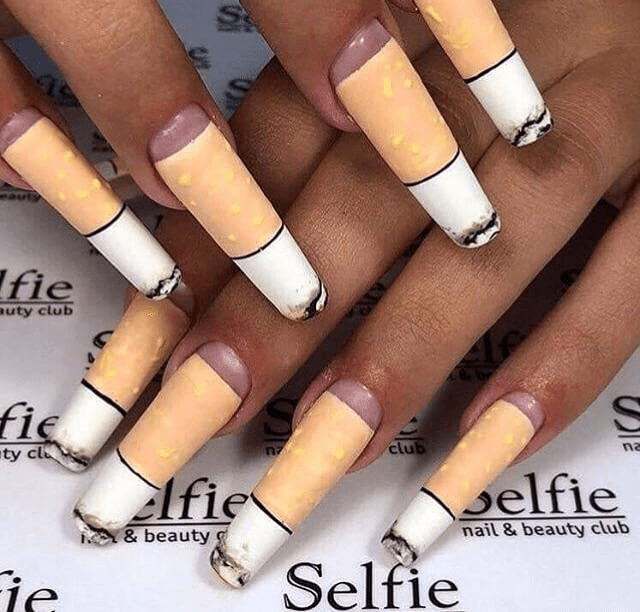 Ashtray nails might be up next on this person's list of nail designs, and whoever made this did a pretty good job. Though this customer should probably settle for french tips next time, it would look a lot better.
How to Be the Center of Attention at the Airport
Somebody captured a photo of a lady carrying her suitcase- which happens to have a larger than life-sized photo of her face on it. It's hard to call the suitcase design anything close to pretty, but it is an efficient way never to lose track of which bag is yours. Although she's not exactly flying in style, she is traveling with a bit more ease than the rest of us.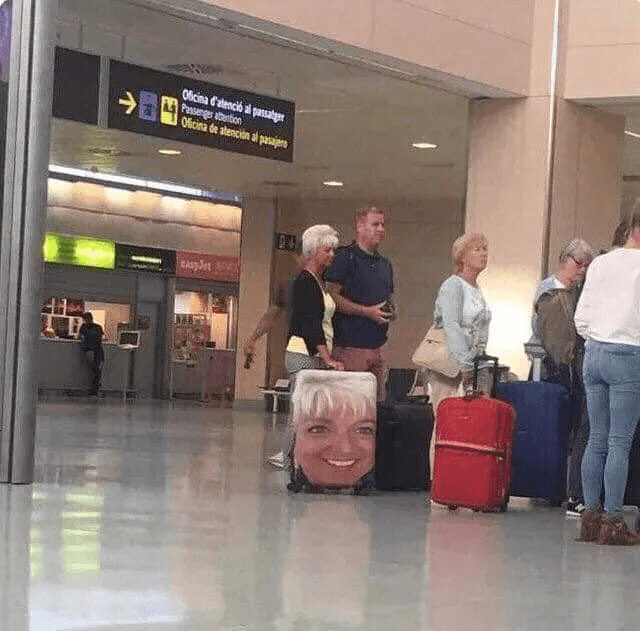 She will have no trouble locating her suitcase when it's ready for pickup on the belt, all she has to do is look for her face and there it is, honestly- it's stangely genius.
The Most Uncomfortable Seat in the House
This image is a see-through toilet seat covered in super sharp thumbtacks that guarantees all guests will choose to hold it in if they need to go. There are many cool toilet covers with unique designs, but whoever made this toilet wasn't going for a warm or welcoming invitation. Just looking at it is painful, and the fact that someone's creative mind settled for this design is frightening and slightly evil.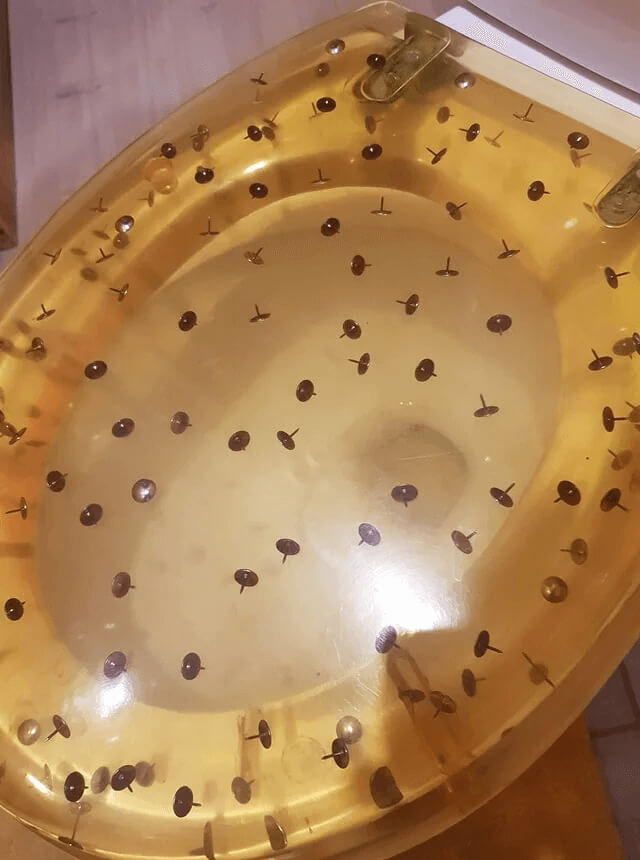 Toilet seats are pretty standard and don't always have to look inviting, but this one is just terrifying. Maybe the owner of the house wants people to runaway as soon as they enter the bathroom.
This Is One Way to Make Use of Roadkill
This backpack is a two for one because the woman in this picture is wearing the carcasses of two different animals as a purse. One looks like a fox, and the other is a turtle shell which aren't parts that go well together- at least, not in nature. There are many creative ways to carry around your things, but this one is way too resourceful. Though, it is a good way to avoid people.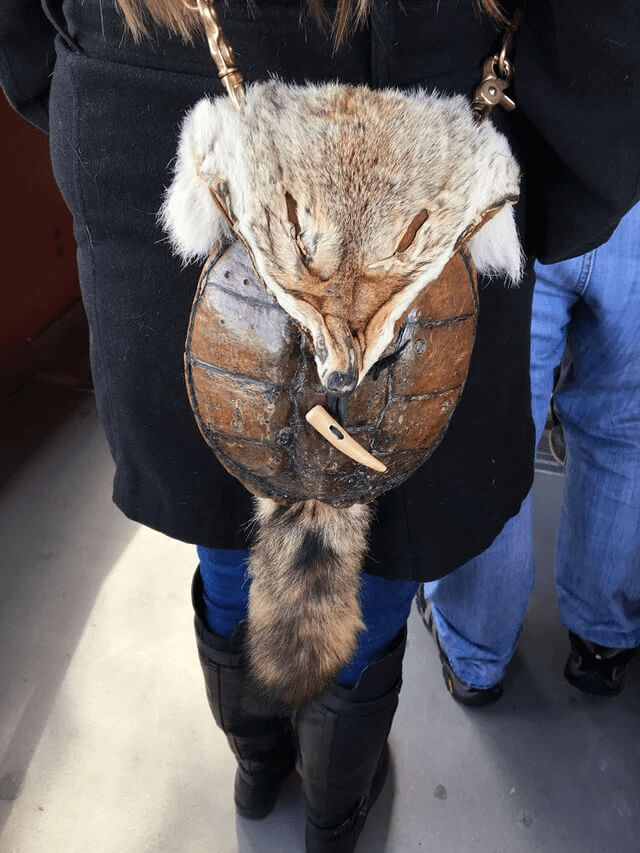 Humans often do many things with roadkill and taxidermy. Some use it as household decorations or as art, but publicly wearing one as a bag is a new that is probably better off not existing.
A Big Toed Bed Frame
This frame houses a mattress like any other standard bed frame, but this one has two feet and ten toes- the big toes being, well, the biggest. Although slightly creepy, it still might be comfortable, but you will definitely have trouble matching this footsy frame with any other bedroom decors. Whoever designed this piece of furniture has surely pushed the above the boundaries of modern art- even the toenails are gigantic.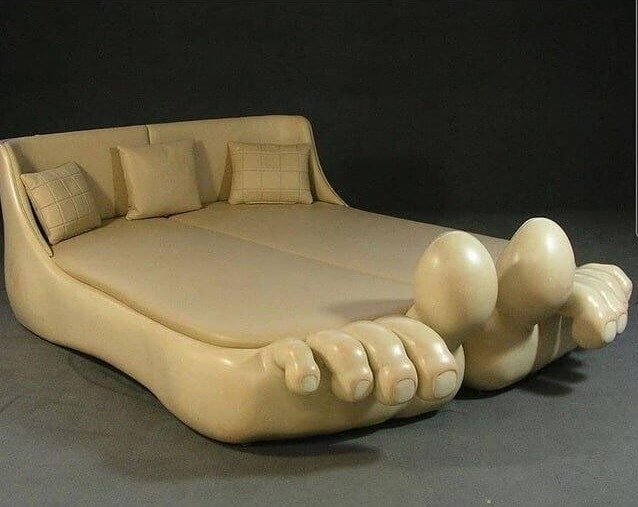 This bed frame is perfect for your bedroom if you're lonely and don't mind two big toes being the first thing you see as you open your eyes in the morning.
Talk About a Bad Hair Day
This woman has replaced her hair with hundreds of cigarettes which seems to be a costly style that comes with a ton of health complications- and she looks pretty proud of it. This can't be comfortable, but it must be convenient for anyone who enjoys having a smoke, or a million smokes, on a single night out. It must have taken her hours to remove these things from her head.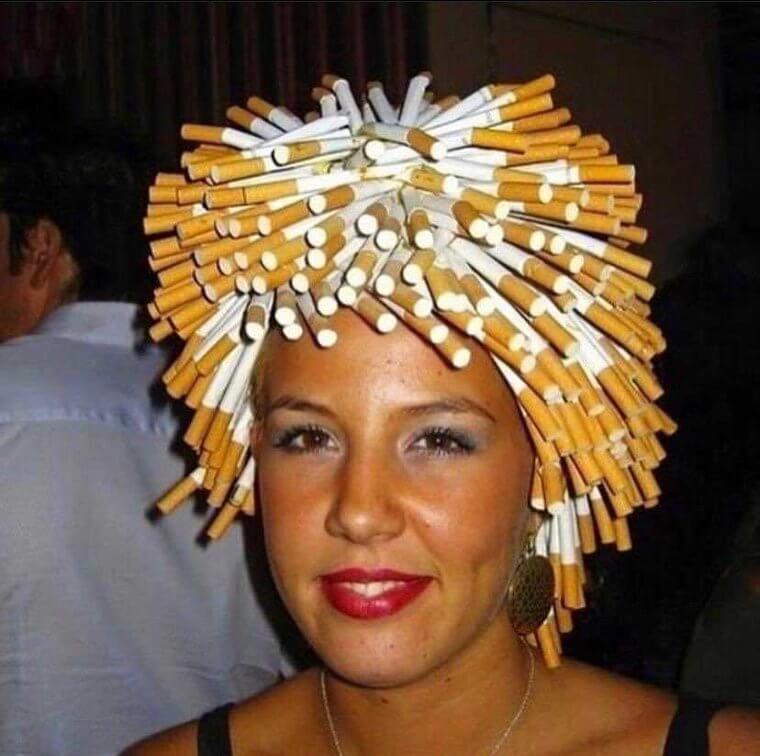 There is no way to know why someone would create this flammable hairstyle to go out in They must have planned on sharing- hopefully, she stayed far away from lighters.
The Biggest Bernie Fan Is Dressed in Style
The man riding this public transport is dressed in pajamas, but this onesie is different than all the rest because it's covered in many pictures of Bernie Sanders' face. There is no doubting who this person voted for in the last few elections, but at least his political views are a bit more fun to conceptualize, and he clearly feels great about it. It certainly doesn't look great visually, but this guy seems to be content with his favorite pair of pajamas.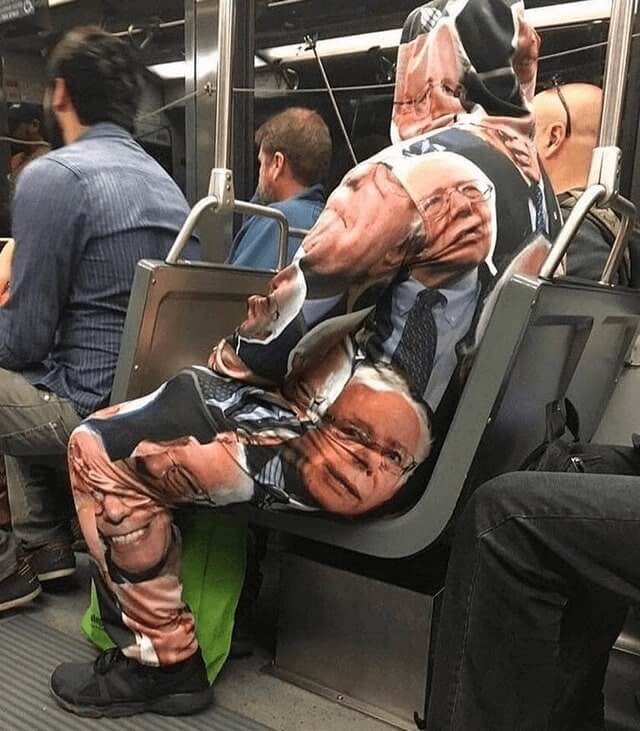 There are several ways to declare which side of the political spectrum you lean on, but this one is certainly loud and proud while also being comfortable and cozy at the same time. 
A Bathroom to Barf in
Instead of standard white tiles, this room is covered in the most unappealing decor you could imagine. The ugly floral design has reached every inch of this restroom and isn't easy on the eyes. Hopefully, this work wasn't designed by an interior professional because if so, they're likely better off never decorating a bathroom again. Carpeting on the floor is fine, but even the walls are fuzzy for some reason.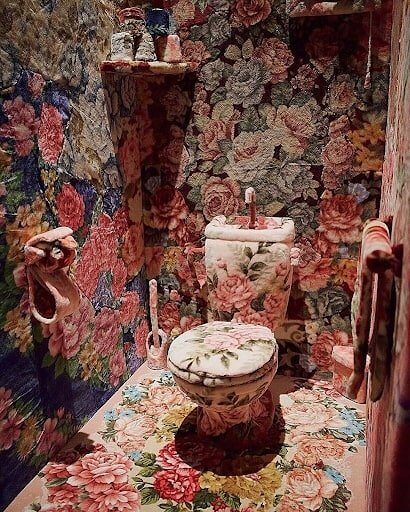 If you usually head to the bathroom for some "you" time, It doesn't seem possible to have a quiet moment alone in this one because the decor itself is louder than ever.
A Sweater That Doesn't Belong Anywhere
Someone, somewhere, took the time to knit this one-piece sweater. This is one of those things that grandma gifts you on the holidays, and you need to pretend to like. Thought, the benefit of this is that it would win any competition at an ugly sweater party. It might be comfortable, but going out with this in public is a recipe for strange and confusing looks from anyone that passes by.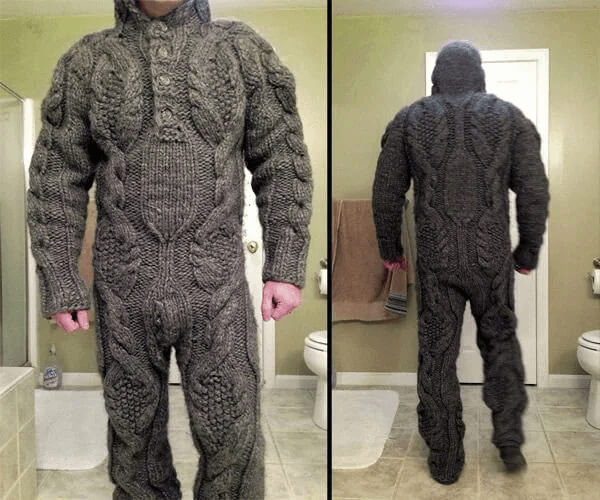 Unless you want to be a life-sized Chubaka, this sweater was made to be hidden and never seen again. It's undoubtedly better out of sight and way out of mind.
A Good Reason To Skip Breakfast
For some reason, this white rabbit is now wrapped around a toaster and has been gifted giant antlers in its afterlife. It's a good enough reason to avoid this thing forever or to go on a lifelong carb detox. The person who made this should have stopped this idea before it even came to fruition; it's a very furry and creepy mistake that doesn't belong anywhere close to kitchen appliances.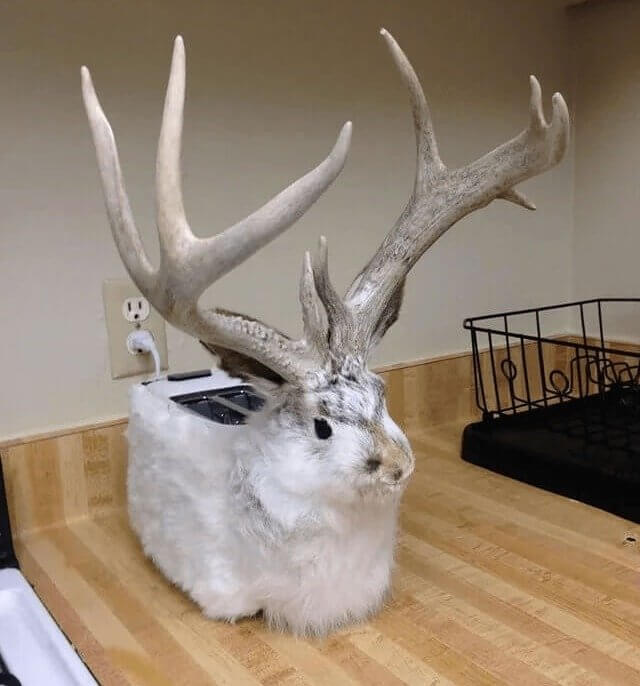 Who doesn't love a perfectly crisp toast with their morning coffee? Whoever encounters this toaster could answer that questions. This certainly goes above and beyond the epitome of a tummy churner.
Let's Not Make This a Fashion Trend
The person in this picture seems to be proudly wearing their strange, meaty variation of a pair of torn jeans. There are some peculiar clothing items out there in the world of design, but this one is pretty much unnecessary. It's also a bit uncomfortable to look at, and the only question that could possibly come to mind is- why? Let's hope they're at least comfortable, or something like that.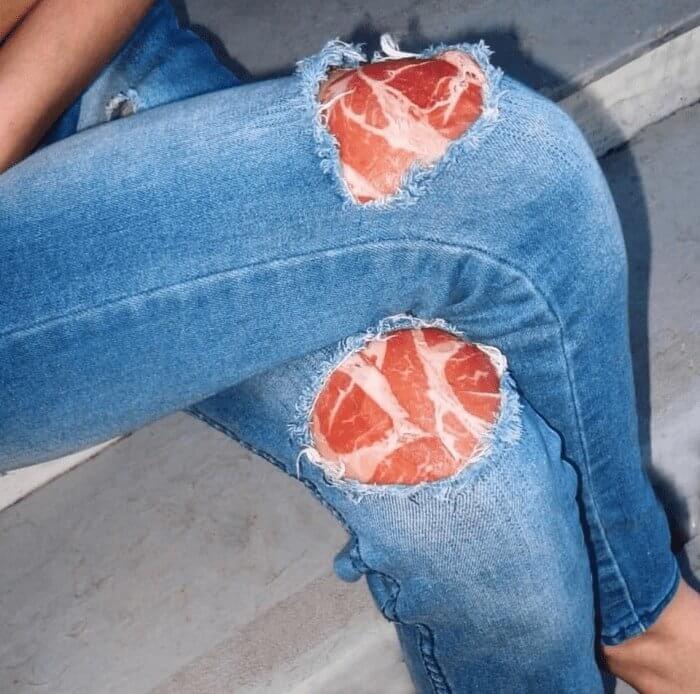 Ripped jeans have always been a thing of fashion- practically a classic composition. But, meat patterns hiding underneath the rips will make you want to become a vegetarian for life.
This Bathroom Is Beyond Disorienting
This confusing bathroom is covered with black, white, and green tiles of absolute random placement, and it's not the slightest bit inviting. Whoever designed this room did not vaguely consider aesthetics because these tile patterns don't actually make any sense- the colors are not even matching. It looks like something a child built in a video game, though they probably would have done a better job if we're being honest.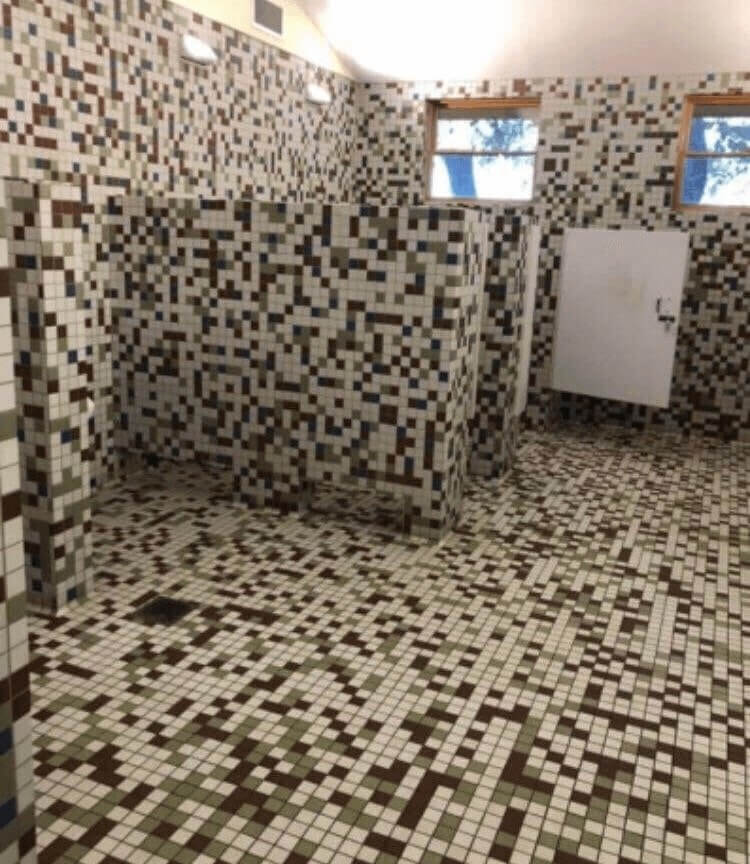 This bathroom is meant for emergencies only because anyone who walks into this room will likely want to walk right back out. This restroom pattern is, well, patternless and strangely complicated.
How To Prove You Have a Drinking Problem
Alongside their glasses of white wine, these two women are posing for a picture of them dressed in tank tops that are made out of wine bottle corks. These girls have genuinely taken alcoholism and clothing design to unthought-of levels. If they love wine, it's doubtful that this took some time too long to make- but it doesn't look too comfortable for daily wear. Maybe it's their designated winery outfits.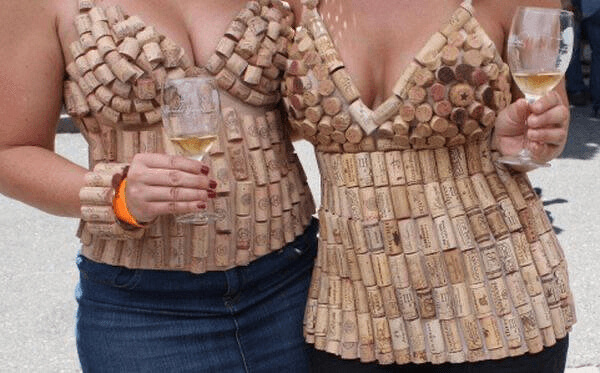 There are a ton of wine connoisseurs out there in the drinking world, but not many come around to using their leftover corks for extremely unappealing clothing purposes- how strange.
One Way to Get People to Avoid Your Product
At first glance, the bright green markings on this package of cheese look exactly like mold- the one that appears on expiring dairy products. In reality, this cheese is perfectly good and was simply made with an unappetizingly big design flaw- where any customer is sure to turn away. Generally, people understandably want their sliced cheese to look just as good as it tastes. Neon green certainly belongs far away from all food.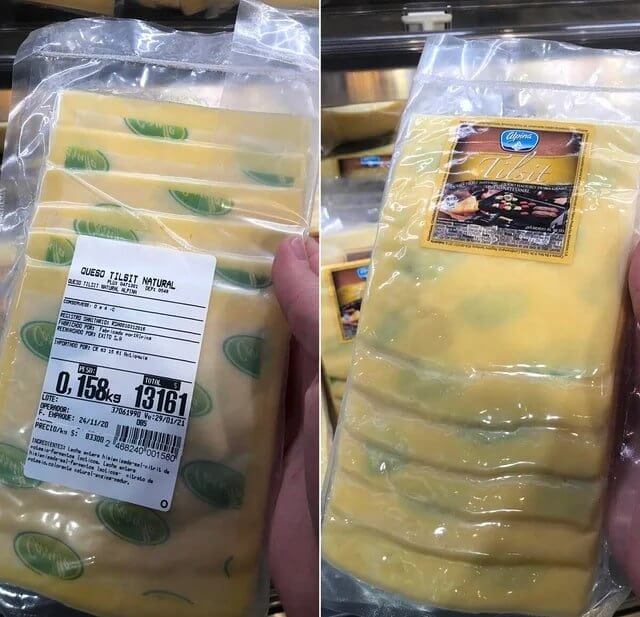 They definitely should have gone with a cheesy yellow ink color for blending purposes, but this is a perfect package design if you want absolutely nobody to buy your cheese.
This Bag Has Its Own Bag
The model in this picture has placed her bag inside of another bag, and nobody knows why. This designer purse must be so expensive that it requires a bag of its own to keep it safe from every and all things while also acting as a showcase. Though that basically takes away the point of having a bag in the first place but that probably isn't something this woman thought about.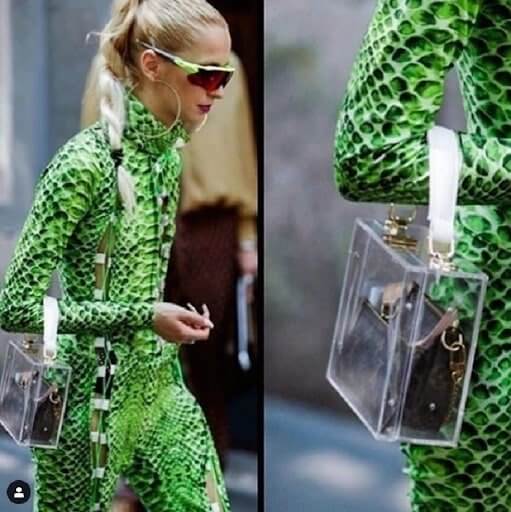 The double bags surely do not take away from the fact that this person is also wearing a neon green snake jumpsuit and decided to take every fashion risk possible.
This Necklace Needs an Exterminator
This piece of jewelry is made with not one, not two, but over twenty cockroaches, and nobody knows why. They're basically the most dreaded of house pests, and most of us run off screaming if one of these things is found crawling around in the house. Let's just hope these bugs are made out of plastic and were part of an arts and crafts project because they truly don't belong on jewelry.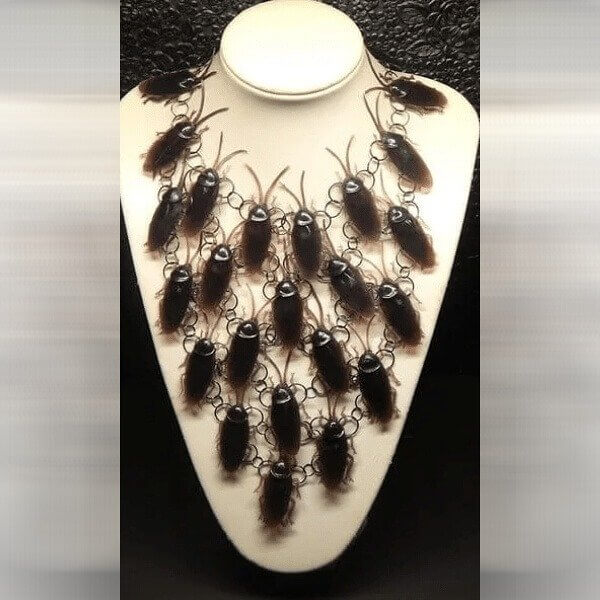 We get it; some people genuinely love bugs- and cockroaches in general. Though, maybe it's a hobby best self kept because anyone encountering this necklace will surely go off running.
This Car Is Definitely a Gas-Guzzler
Automobiles come in various exterior colors, from white, black, and even red or green if you feel eccentric and want to stand out in the parking lot. But for some reason, someone took the time to dress the entirety of a car in brick. Houses like that are typical, but this might be the first-ever brick car that can actually be driven. Hopefully, the interesting design is only reserved for the exterior, or else this weighs a million pounds. Let's hope the owner plans on keeping this forever because it will never sell.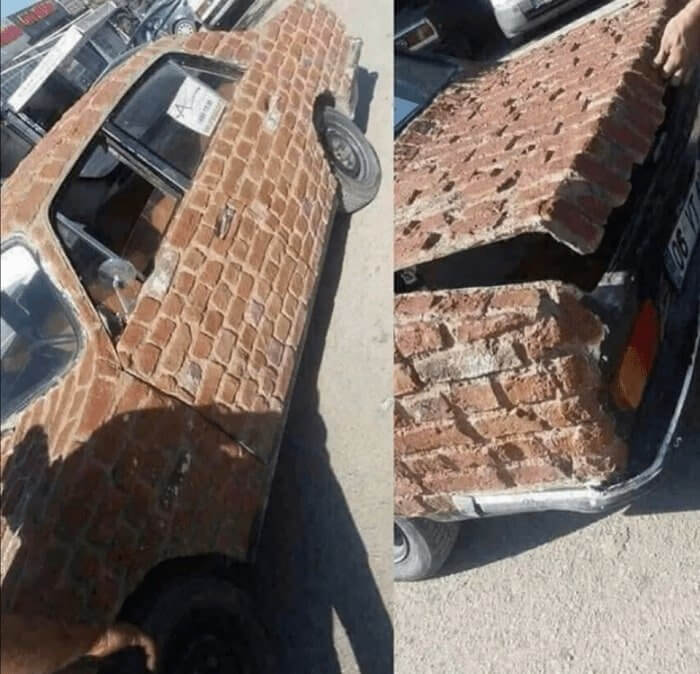 It's not likely that this car is picking up speed on the streets anytime soon, so whoever owns this car is likely constantly breaking their bank to fill up that gas tank.
A Mask That's Perfect For Keeping Everyone Away
Knitting is a shared passion, and lots of people create very cool and fun things, but not often do you see final products as terrifying as this one. The brown hat with the antenna on top is weird, but the eyebrow bone is what ties this all together to make you want to look away quickly. There's no telling why somebody would create this, but it is perfect for Halloween.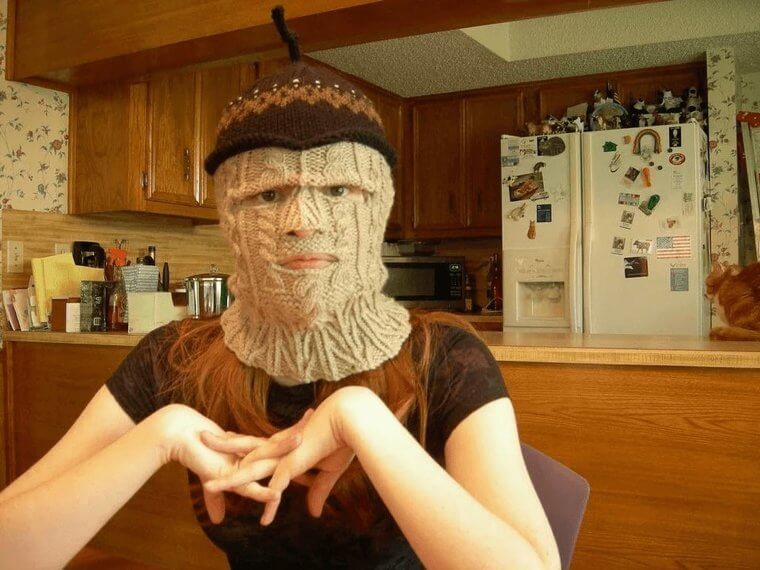 This ski mask was practically made for horror movies. Hopefully, nobody plans on wearing this on the slopes because it would cause pure, genuine fear from anyone in the local area.
A Phone Case of Pure Fear
The phone case in this picture was crafted in blood red with eyeballs wrapping around the outside- and let's not forget about that random baby head. Pretty much anything involving a baby doll's head is terrifying, but this case is full-on cursed, and the eyeballs are just too realistic- they're practically staring at you from every and all directions. It's definitely borderline demonic if we're being honest- yet strangely artistic.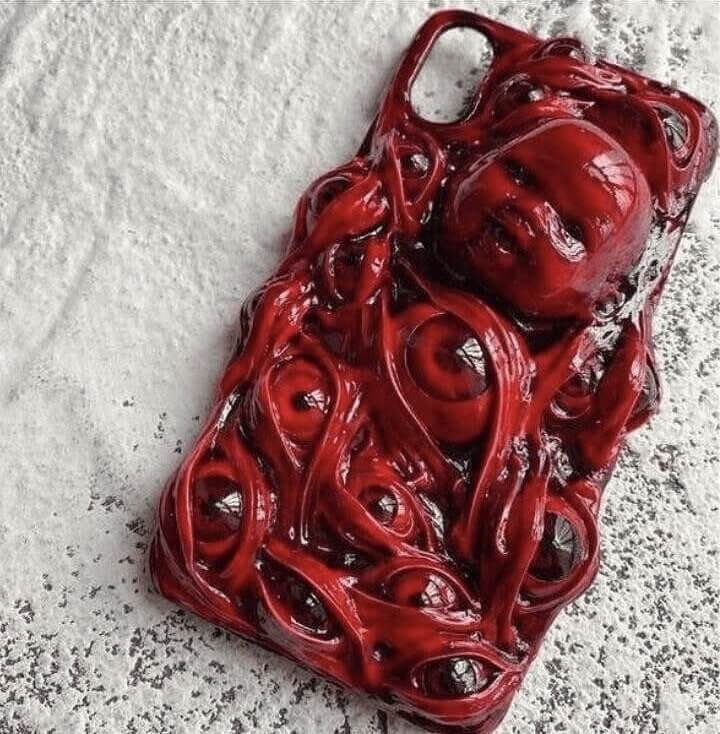 This case is perfect for making sure that nobody grabs your phone, but any kid that sees this thing will likely have night terrors for the rest of their life.
This Minion Can Set Anything on Fire
Who doesn't want a fire pit to cozy up next to on a cold day with some friends? Well, this angry minion would probably ruin the vibe. This looks like it was custom-made for some unknown reason, but the mouth full of flames seems like it can do some quality marshmallow roasting. Also, that bundle of hair on top is slightly off-putting if minions weren't creepy in the first place.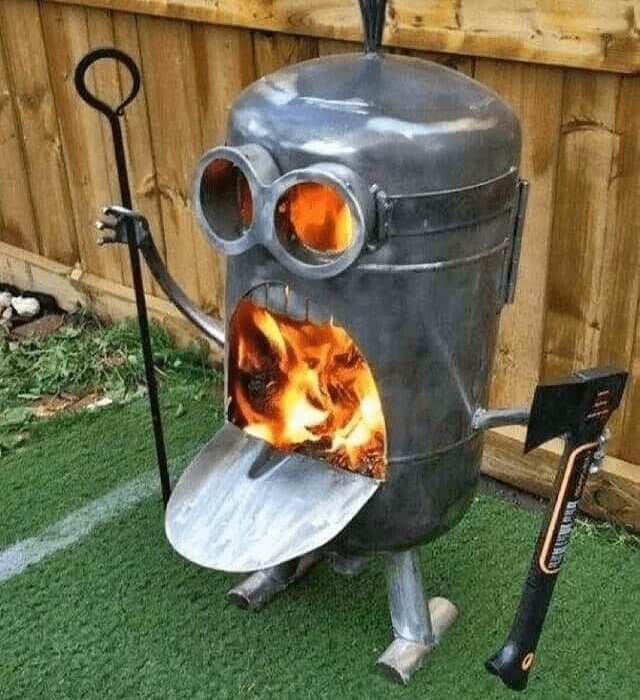 We all know that minions are dangerous creatures who enjoy destruction, but this one can engulf literally anything into flames. Also, look at those hands. They're holding fatal weapons- beware.
When Latte Art Starts to Get Creepy
There is a creepy, crawling insect sitting on top of this cup of coffee, and it looks way too real. Thankfully, it's only latte art, but still- was it necessary to use the world's most feared bug as a design? Whoever made this is genuinely a realism master, but this art doesn't exactly make you want to take a sip of the drink, though it is perfect for trendy purposes.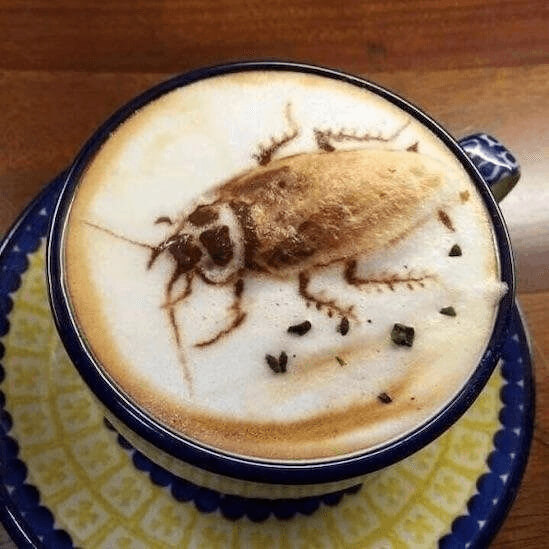 Making all types of designs for coffee art is popular these days, but a cockroach is simply unappetizing. This would be the only reason to skip your morning cup of caffeine.
A Designer Shoe That Makes No Sense
If you never thought that a shoe could be hard to conceptualize, this strange footwear will prove you wrong. There are so many questions that start coming up when you look at this picture- is it a sandal? Is it a heel? Is this thing even functional? There is absolutely no way to tell, but this is better off staying away from feet and will hopefully remain off the runway.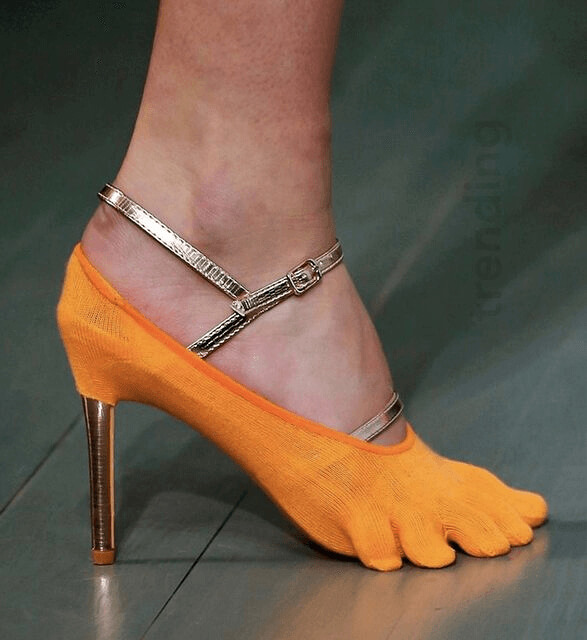 It's hard to understand if that is a sock or a glove, either way, it definitely doesn't belong here. Let's just hope this footwear doesn't being a thing of fashion
Something's Wrong With Elsa
This Frozen mask looks normal and fun- until you open it up to see a significantly deformed Elsa staring right back at you. Imagine trying to keep a straight face when a kid comes up to you with this mask on- it would be hard. Elsa is supposed to be magical and enchanting, but this design flaw is kind of scary and should probably be fixed to prevent any nightmares.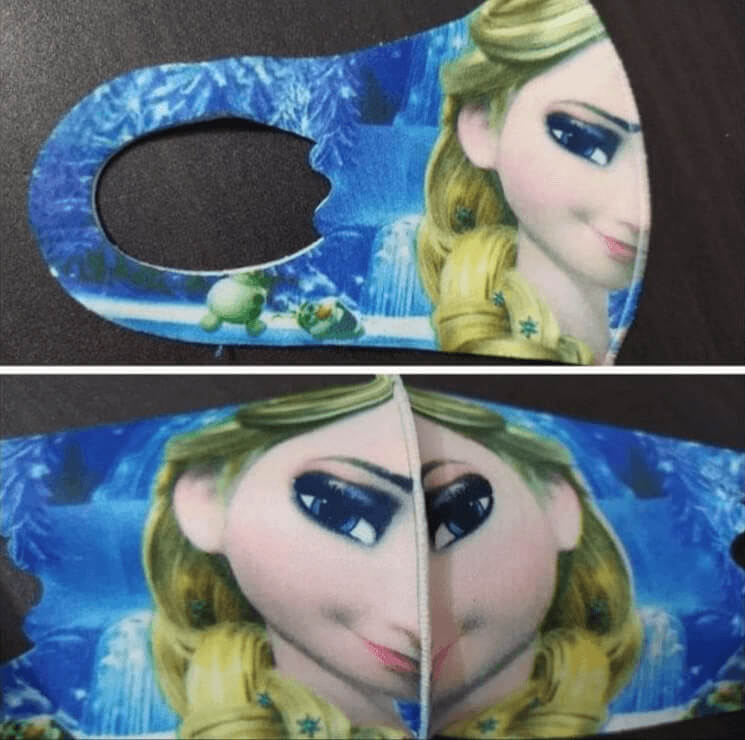 The creators of this mask had all of the right ideas and intentions in the beginning but forgot about the part where masks need to be open to be worn.
This Playground Slide Is Just Wrong
This design flaw on this horse speaks for itself. Playground slides are fun and provide a moment where a parent can sit back and relax, but this one is kind of concerning. It's likely only something an adult with a developed mind can notice, but watching your kid slide out of the butt end of a play horse will make you want to go to a different park for tomorrow's playtime.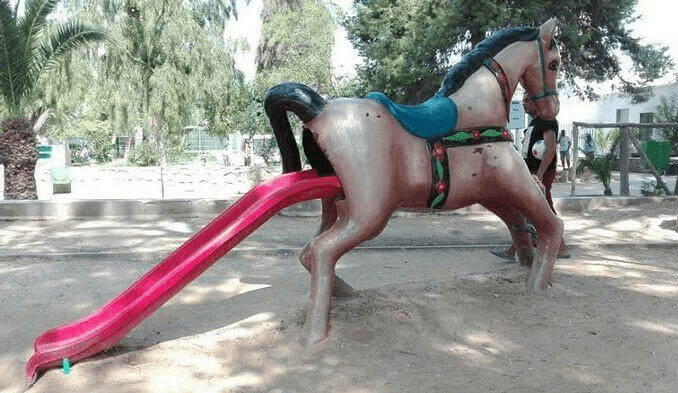 Whoever built this park either had a strange sense of humor or was just oblivious to what it would look like if the slide came out of that end of the horse.
When Pizza Is Tradition
Instead of going for the traditional white wedding gown or a bit of color, this woman has gone for a cheesier, high-carb option. Her gown is a giant pizza, and it even includes the crust at the very top. In all honesty, it looks pretty delicious, but we can't help but question this decision from the start. Food must be a big part of their relationship or something like that; otherwise- there are zero explanations for this decision.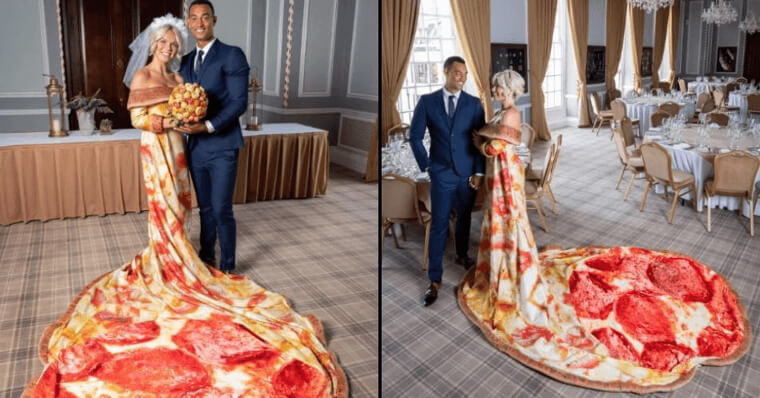 Some people just really love pizza, so why not make it the number one statement of your special day by being dressed from head to toe in cheese and pepperoni?
The Only Motor-Car on The Block
In this picture is a motorcycle that is, for some reason, attached to the front part of the car, which doesn't seem to have any type of actual functionality. This vehicle looks like it was some kind of do-it-yourself project that took a turn for the worst. This thing might be an awkward sight, but the person that's driving this is surely getting tons of attention on the road from everyone.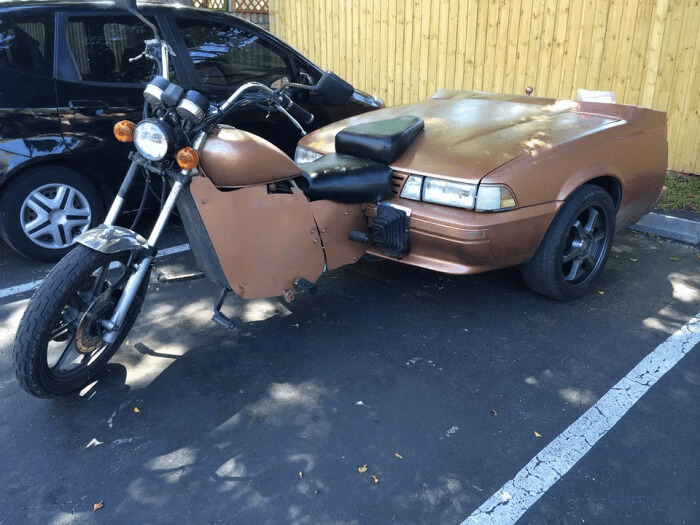 The owner of this contraption couldn't decide between having a car or a motorcycle- so they chose to go with both. That is what is considered innovation at its weirdest.
A Urinal That's About to Walk Away
This is a toilet with human-like features that will make you cringe. People like to get creative with interior design, but this one is super weird. You could take the time to figure out if those are arms or legs at the bottom of this urinal, but there is simply no way to draw any conclusion. Though, this thing may start to run away before you even get the chance to.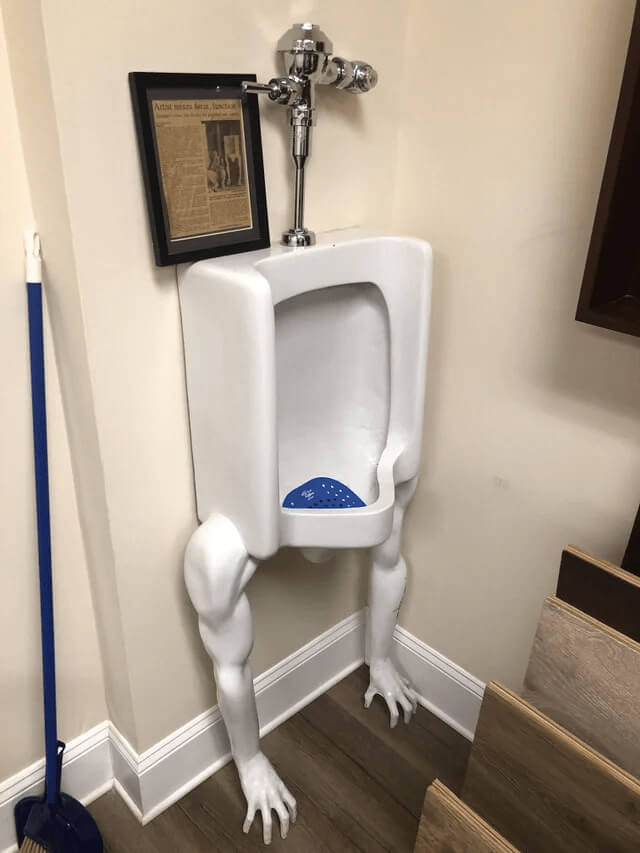 This urinal looks like it's in the middle of someone's living room which is weird in itself, but the fact that someone decided to give it muscular-looking limbs is just creepy.
A Reason to Not Say "I Do"
So, yes, these are rings with human teeth where a diamond should go. They should have gone with the diamond. This isn't only gross; it's scary too. There truly can't be a single person on this planet who would love to be gifted this kind of jewelry instead of a sparkling ring. Honestly, this is hard to look at for more than a few seconds- you might want to reset your memory.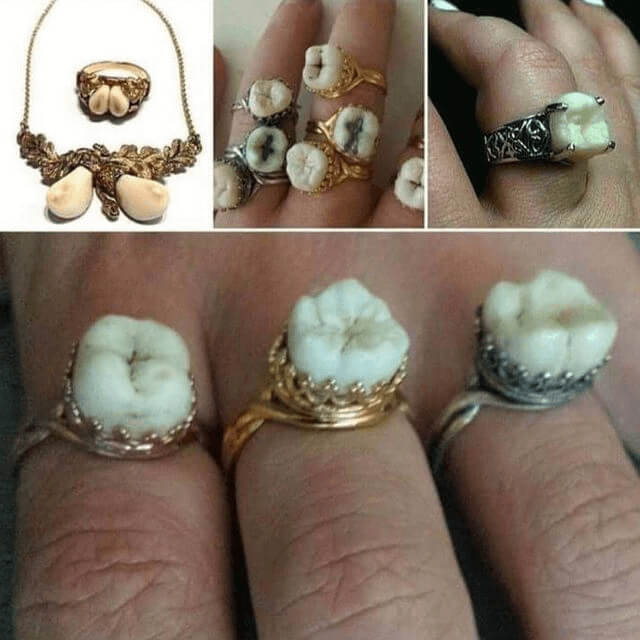 Whoever decided to ask for a person's hand in marriage with this thing truly shouldn't be proposing in the first place- one can imagine what the wedding ring would look like.
A Full On Meal For a Phone Case
There are so many kinds of fun and creative phone cases that you can buy, but a hearty meal isn't available on the market just yet. Somebody took their time to create this strange piece of art that perfectly resembles their favorite foods. It looks accurately natural and might make you hungry for a moment there. Maybe this person found themselves with their leftovers and a bottle of super glue.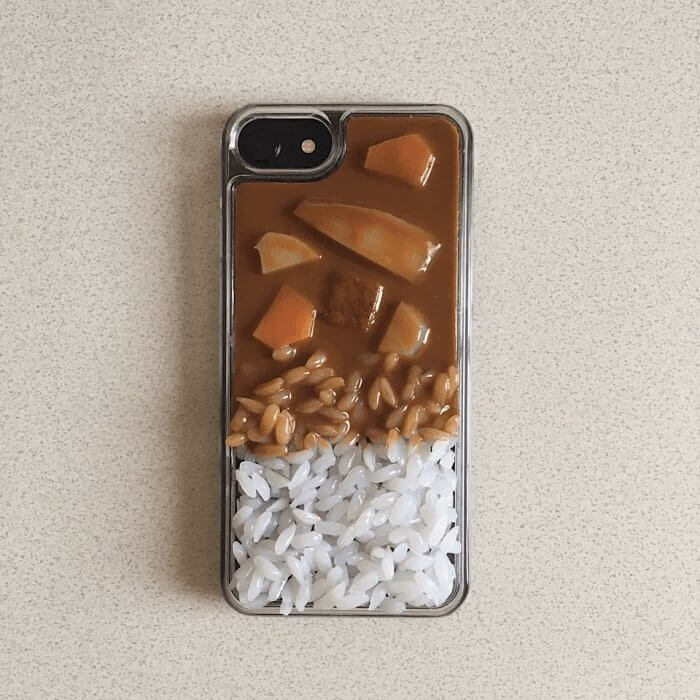 This phone case is perfect for anyone who is an avid fan of rice and stew, although it does look like you just dipped your phone into last night's dinner.
This Is a Painful Typo
Whoever made this advertisement didn't emphasize exactly what they're cutting in their place of business- and that was a big mistake. This sign will make you pass up your annual haircut, just in case this thing actually means what it says. Let's just hope Edwards Scissor Hands isn't the one doing the cutting, and the crying kid on the poster isn't inviting. You might be better off cutting your kid's hair yourself.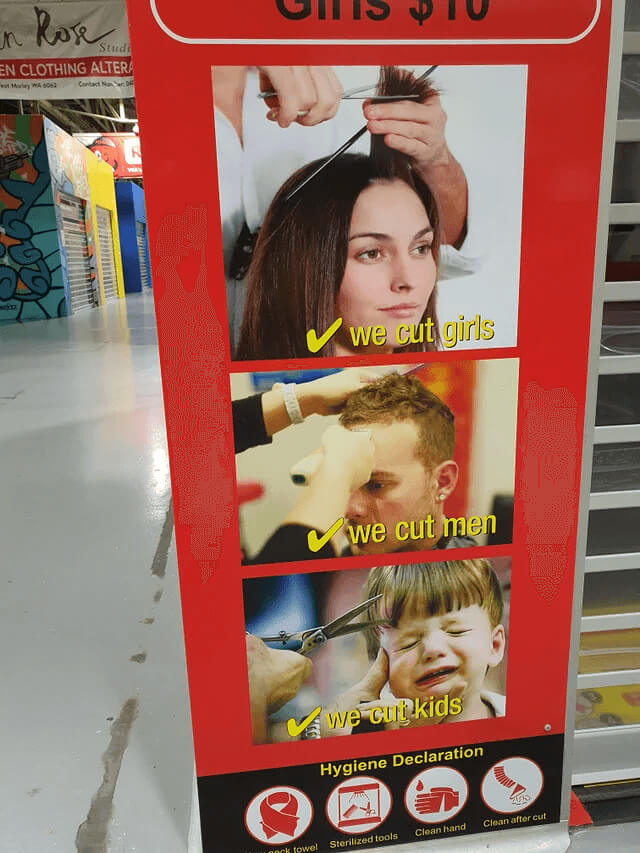 This company likely doesn't realize that they are advertising free injury to the public, hopefully- they stick to cutting hair, and nobody walks into this place with the wrong intentions.
Roadkill With a Side of Bread
These people have been served their bread in an unknown hairy ball of something that looks like roadkill. It's an appetizer that looks unusual and unsettling- the dish must have been served at some kind of rustic country restaurant with a shortage of proper plates. One thing is sure; these customers are likely not returning to this place. Hopefully, the restaurant didn't pick this thing off the side of the road.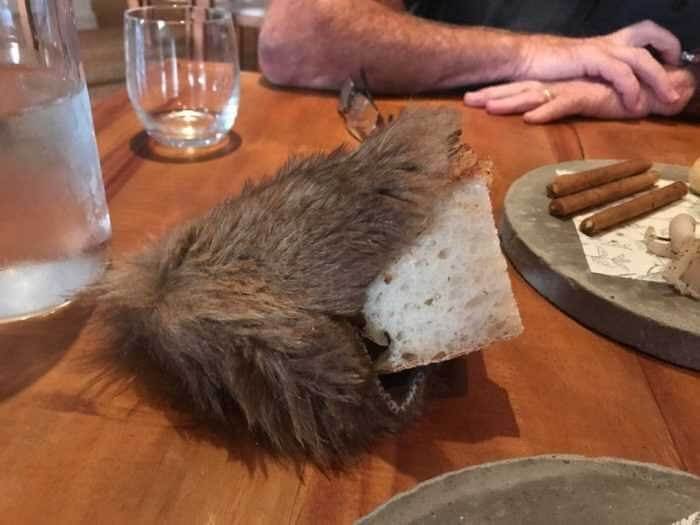 This thing is the opposite of appetizing, and roadkill is probably better off not being used as a serving plate for delicious bread- most prefer their carbs to be furless.
The Wrong Way to Recycle
A lightbulb in this picture has replaced the head of what was once a baby doll- and the person that created this lamp decided the belly button was a perfect place for the light switch. They should have just gone with a second-hand lamp instead of making an effort to create a creepy light source with both arms and legs. A child will never want to play with this again.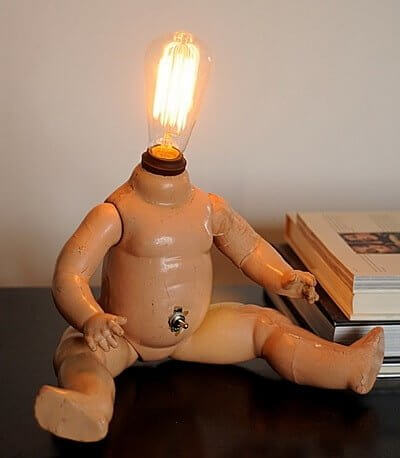 Recycling and repurposing is truly a great way to make the world a bit greener, but this is quite scary. Seeing this on a person's desk would be greatly concerning.
Proof That Shoes Belong on Your Feet
This kid might be the biggest sneaker fan since he walks around with an enormous Nike sneaker as a backpack. It looks very uncomfortable, mainly because the bag is more giant than he is- but he's probably one of the popular kids at school based on his style. It also looks like there's a mock Gucci design on the Nike swoosh; he's truly taking a shot or an attempt at fashion.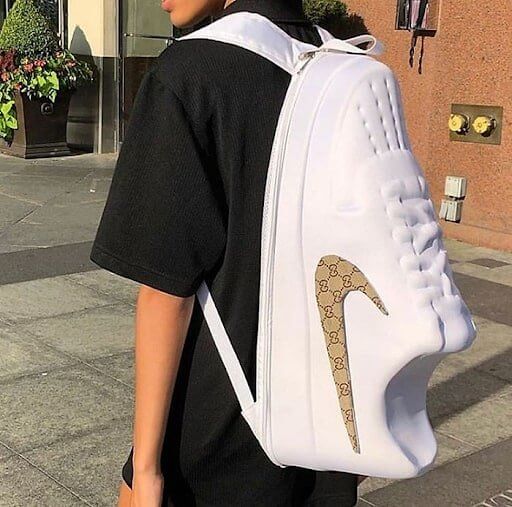 Some people are true sneaker connoisseurs, but this kid has taken a shoe passion way too far when he decided to walk around with an extra-large one on his back.
A Dress That Belongs in Nightmares
With giant sharp teeth, this purple corset-like creation is an outfit of fear. It's nothing close to a designer dress and looks like something you thought was hiding underneath your bed when you were a kid, based on all of those scary movies. The creativity here is certainly unique and will stand out in every situation, but it will also scare a few people here and there- that's for sure.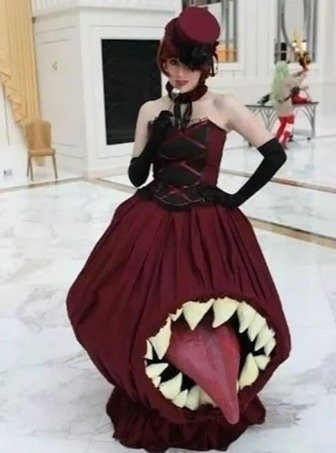 Tons of artists are able to sew awesome creations like stuffed toys and clothing, but whatever this is will remain way out of that category because it is simply scary.
A Fireplace That Came From Hell
Inside this beautiful, modern-looking home is a scary fireplace with a face this is horrifically realistic. This thing is definitely a conversation starter between any guests that enter this household, but were the horns necessary? It wouldn't be surprising if this were one of those illusions where the eyes seem to follow you around as you walk. This thing actually looks awesome until you start to see the fine details.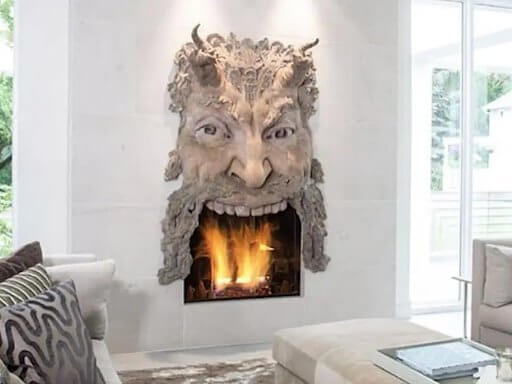 If you're cool with two eyes and a fiery mouth constantly staring at you while you relax on the couch, you could definitely invest in building this fireplace as well.
This Toilet Is Just Very Disturbing
Inside this bright purple bathroom is a toilet that doubles as the world's biggest heel. There are so many fun and unique ways that someone could customize a bathroom, though a giant shoe for a toilet goes beyond quirky and above questionable. There is evidence that this restroom has not been cleaned in a while, but the cheetah print lining is another thing that makes this design even more unpleasant.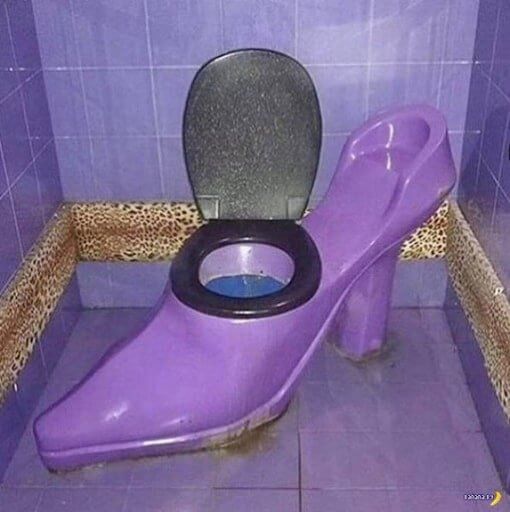 This looks exactly like something you would find in one of those cheap and retro motels from the 90s, but that doesn't mean it should exist in the first place.
A Rug From a Horror Film
Laying across this floor is a rug that looks like something that came from a terrifying movie set. Hopefully, this thing isn't inside of a guestroom or something because the guest would probably prefer to sleep somewhere else after laying eyes on this work of horror.  It would truly be better if this didn't exist in the first place, but this is a perfect thing to use to play a prank on someone and will likely send that person running for many miles.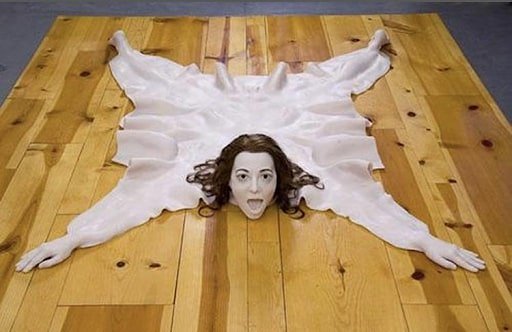 Tons of people have real dead animals as rugs in their houses, especially if they are avid hunters. But, a line should be drawn between animals and creepy human-like ones.
Anyone Can Enter This Bathroom Stall
To enter this bathroom stall, one must pass through these double doors that don't look like they have the ability to lock. Somebody installed these and, for some reason, thought it was truly a good idea. If you happen to come across this, you're probably better off finding a different bathroom where the chances of somebody walking in are slim to none. It's like an old western movie that somehow made it to a bathroom, where it certainly doesn't belong.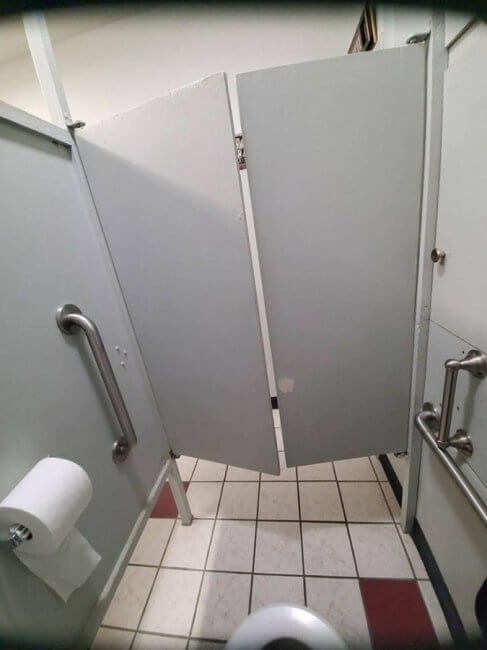 This thing basically defeats the entire purpose of a real bathroom door, because anyone can enter when you need to go. There is certainly a guarantee of zero privacy here.
This Toilet Was Made for Non-Humans Only
This restroom sign looks like it was created only for people with three legs and abnormally long torsos, excluding the rest of us humans. The person who made this sign may not have been a human himself and was likely a bit confused about our general anatomy when creating this. It doesn't make much sense, but it sure is funny and is worthy of a picture as well as a laugh or two.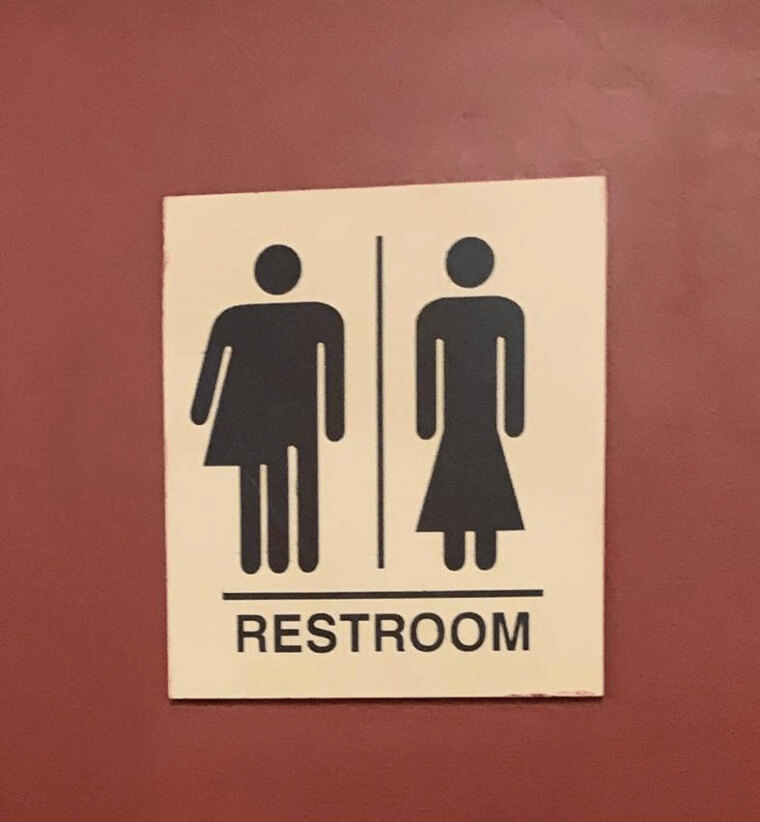 This bathroom sign is basically saying that it's accessible to aliens only and looks like it came from another galaxy. If you happen to come across any aliens, point them in that direction.