This article was originally published on tv-bee and has been republished here with permission.
Thanks to the rise of online streaming services, fans can now watch - and re-watch - their favorite shows, and spot some mistakes that have previously been missed. No show is immune to
plot holes, gaffes and continuity errors, and some of them are just incredibly funny. From invisible objects to plastic cups in ancient times, to stand-ins finding themselves on camera - we've compiled a list of the funniest TV mistakes, that will make you see these shows in a whole different way. 
1. Game of Thrones: Starbucks Cup
While the Game of Thrones saga is supposed to take place in the time of kingdoms and dragons, eagle-eyes viewers have noticed a modern-day coffee cup on the table in front of Daenerys Targaryen - which looked like a Starbucks takeout cup.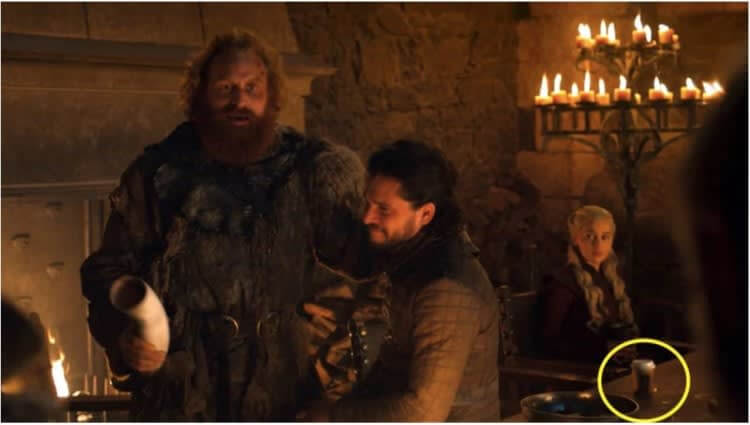 "The latte that appeared in the episode was a mistake. Daenerys had ordered an herbal tea," was HBO's funny response to the gaffe. 
2. The Simpsons: Opening Sequence
The Simpsons' opening sequence is one of the most popular in TV history, but over the 20 years it has opened the show, there was always one continuity mistake that remained, unnoticed.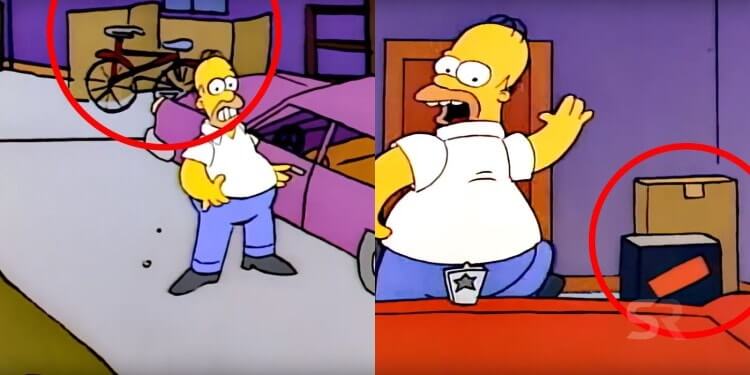 In the sequence, we see Homer arrive home and park his car in front of the Simpsons' garage. When he opens its door we see a bike, some open boxes and random tools - but when Marge arrives and Homer runs in, there are suddenly only two closed boxes inside.
3. Big Bang Theory - Penny's Dad
In an early Big Bang Theory episode, Penny mentions her dad when talking to Leonard's mum - and says that his name is Bob.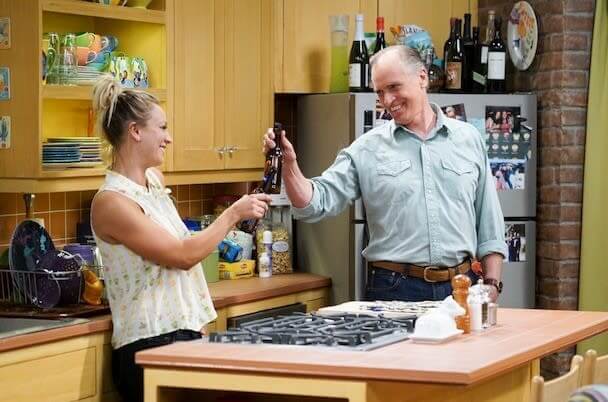 However, in a later episode we meet her dad - whose name is, in fact, Wyatt. Seems pretty strange that she doesn't remember her own dad's name, no?
4. That 70s Show: Donna's Sister
Donna Pinciotti's little sister, Tina, appeared in one episode of the show. She is attending a party with the rest of the gang and even flirts with Fez, despite being only 14-year-old.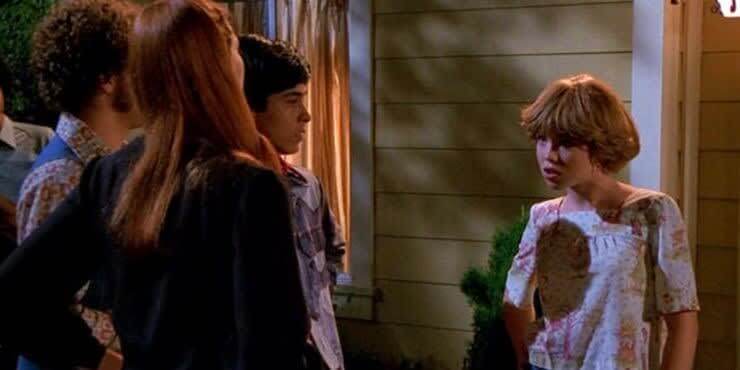 However, Tina is never to be seen again in any other episode, and Donna is later spoken of as being an only child. 
5. Friends: Rachel's Disappearing Necklace
In an episode on the show's second season, Jennifer Aniston's Rachel Green is wearing a magical necklace. Or at least, it seems magical, because it keeps disappearing and reappearing during the scene.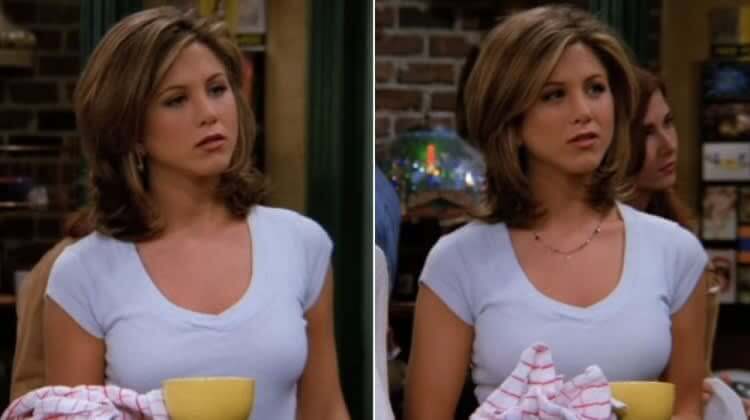 The fact that Aniston is wearing a white V-neck only emphasizes the necklace's apparent time travel abilities. 
6. Grey's Anatomy: Dangerous MRI
In the episode Band-Aid Covers the Bullet Hole, a patient arrives at the ER who has a fork stuck in her neck.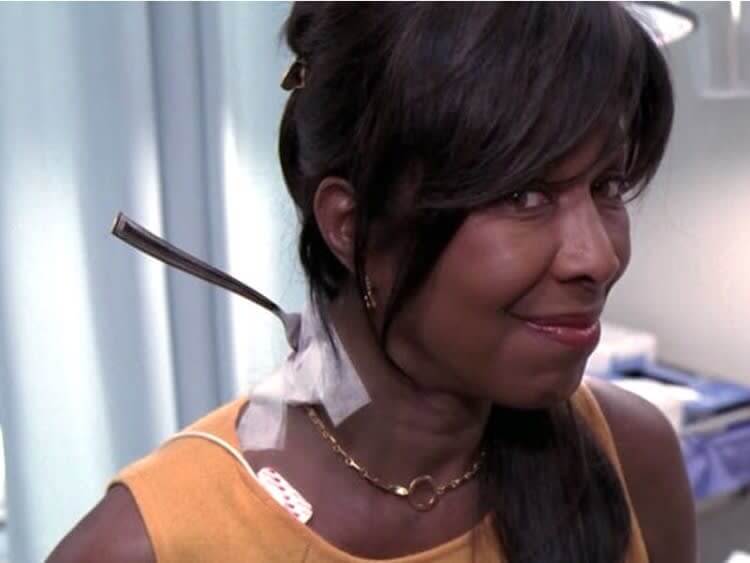 The doctors - who one would think, should know better -  order an MRI scan to be done, even though the magnetic strength of the machine means that the fork would have been pulled out of the patient's neck, endangereding her life.
7. Sex and the City: Wedding Announcement
When Charlotte York married Harry Goldenblatt, their wedding announcement appears in The New York Times. However, for some reason the announcement includes some strange plot holes.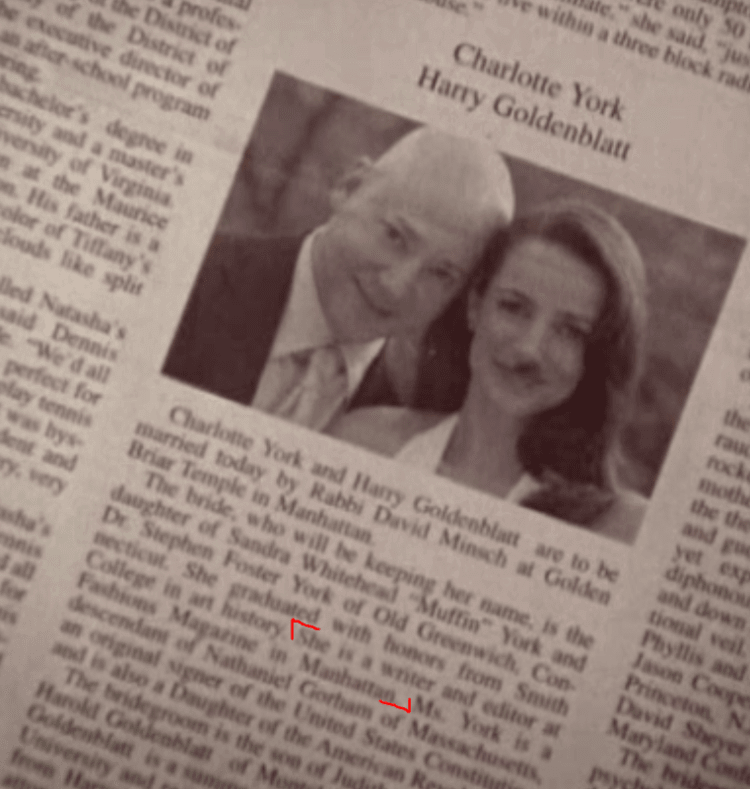 "She is writer and editor at Fashions Magazine in Manhattan", reads Charlotte's description. However, in all of Sex and the City's 6 seasons we have never seen her work in a magazine: at the beginning of the show she was the director of an art gallery, and later a stay-at-home mom and a museum volunteer. 
8. How I Met Your Mother - Real Location
In the episode Subway Wars, when the gang teases Robin about not being a 'real' New Yorker, they all set out on a New York race.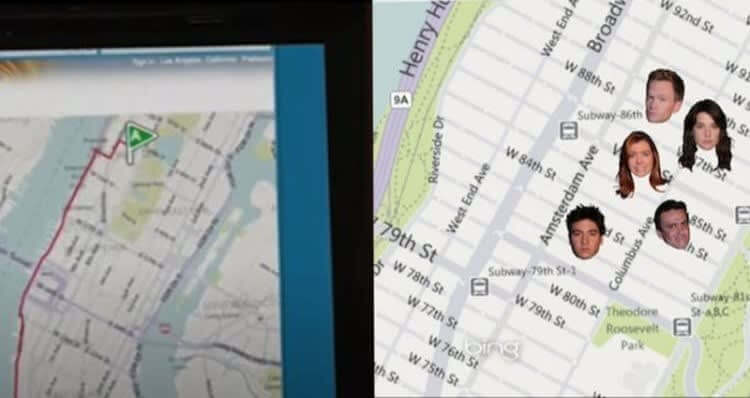 However, When Ted uses his laptop to get directions for the race on a map, the search engine he uses shows Los Angeles, instead of New York, as his location - where the show is filmed, and not where it's set.
9. Game of Thrones: Melisandre's Necklace
In season 6, when Melisandre removes her signature necklace, she reveals her true self as a very old woman - and we learn the magical nature of the necklace that hides Melisandre's real age.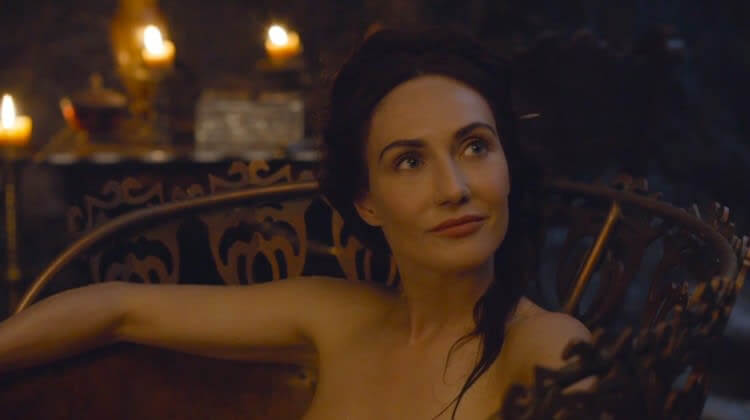 However, in season 4, Melisandre is seen taking a bath without the necklace - but still looks like her normal, young self.
10. Buffy the Vampire Slayer: Vampire Breath
In season 1, Angel the vampire is seen unable to perform CPR on Buffy, and we learn that vampires have no breath.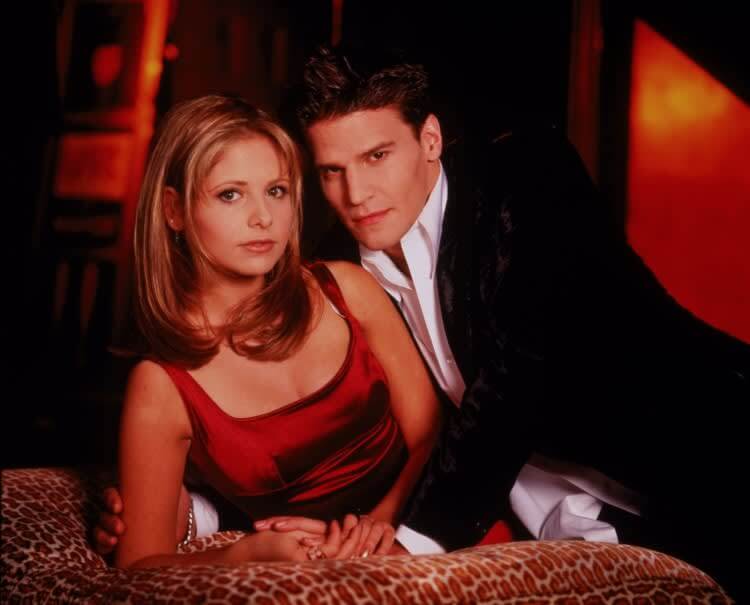 However, the show seems to not follow its own logic, and in later seasons the vampires blow out smoke, pass out from choking, and are even tortured by drowning - all activities that require breathing. 
11. Sons of Anarchy: Car Break-In
When Opie Winston is seen trying to break into a random car using a slim Jim, his efforts seem a bit redundant when we realize that the car is in fact not locked at all -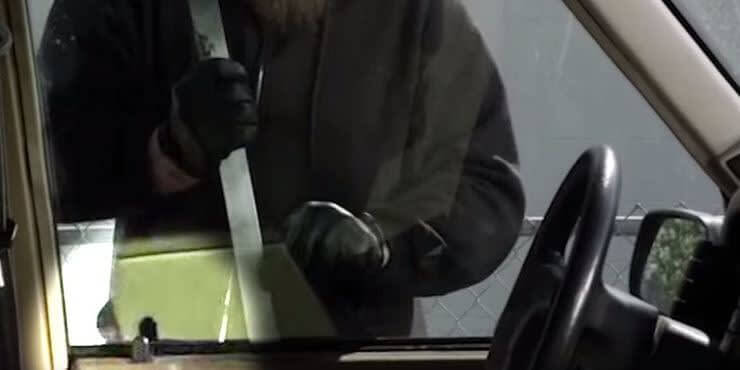 based on the position of the lock button seen in the shot taken from within the car.  
12. Stranger Things - The Demogorgon
The Netflix hit-series put a great emphasis on a realistic portrayal of the 1980s, as the show is set in 1983, but they got one detail wrong: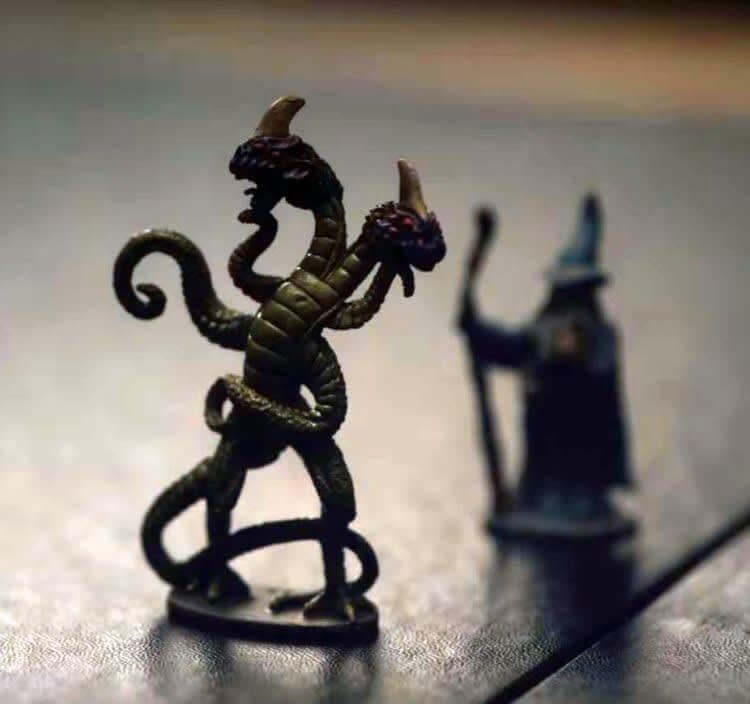 One of the boys' favorite pastimes is playing Dungeons & Dragon, which was very popular in the 1980s, and they give the monster the name Demogorgon. However, the D&D Demogorgon figurine didn't exist until 1984.
13. The OC: Junior Year
When we meet the OC gang during the show's first season, they are all high school juniors, attending the private Harbor School.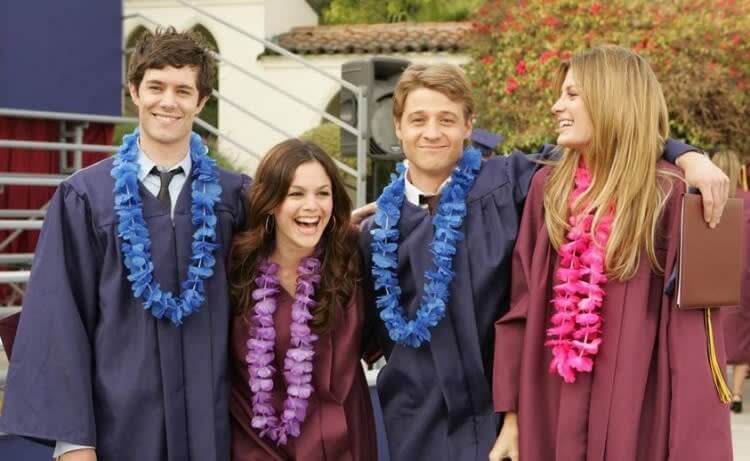 However, they only become seniors in season 3, which means that... They were all held back and repeated their junior year in season 2? This question remains unanswered. 
14. The Fresh Prince of Bel-Air: The Changing House
While the Banks' living room in season 1 of the show was small, and its design included a lot of deep brown colors, season 2 suddenly saw a bigger, lighter room, with a surprising set of stairs. 

Another funny fact is that the Banks' white mansion, seen in the show's famous opening sequence, is actually located in the Brentwood neighborhood - and not in Bel-Air. 
15. Seinfeld: The Parked Car
In the episode The Parking Garage, the gang spends the whole episode looking for their car in a parking garage.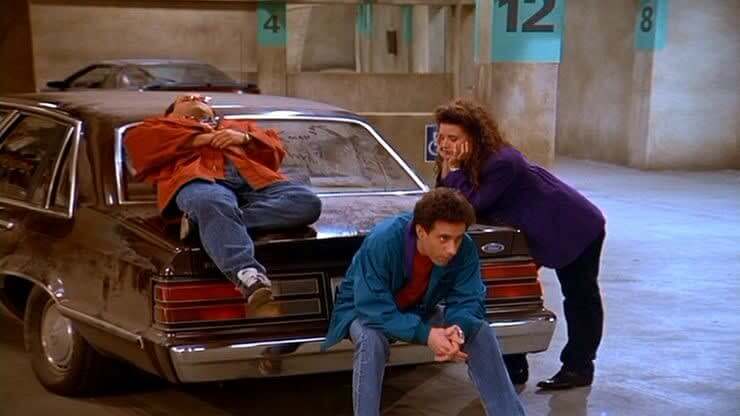 The episode was meant to end with them finding the car and driving off, but in real-time, the car just didn't start. This was actually for the best, as the Seinfeld crew figured out this was actually a funnier ending, and kept it instead. 
16. Game of Thrones: Water Bottle
During one of the most important scenes in the series's finale, in which the Great Council conveys to decide on the fate of the Iron Throne, an unexpected guest is also in attendance: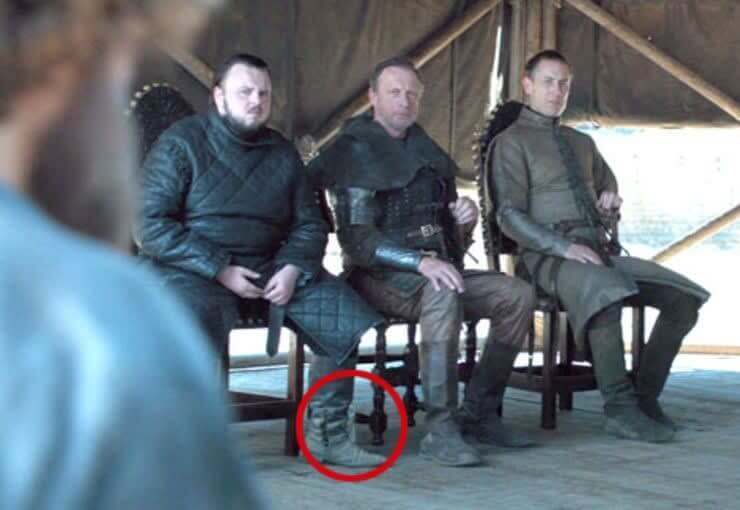 a modern-day water bottle, tucked behind Samwell Tarly's foot - which was probably used by the actor between takes. 
17. Malcolm in the Middle: Crew Member
In the Red Dress episode Malcolm's mom comes through the corridor holding a burnt dress that she just found in the bathroom.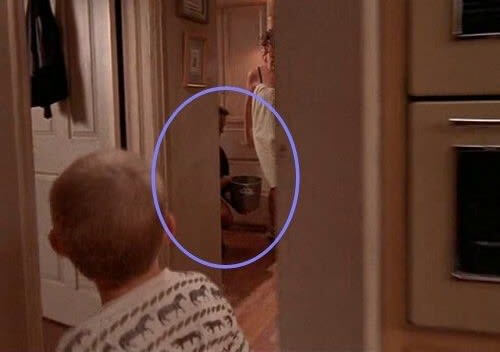 Funnily enough, viewers can actually see a crew member kneeling down and handing Lois the dress, straight from a bucket full of water.
18. Modern Family: Tightrope
In the episode Phil On Wire, Phil Dunphy is excited when he successfully learns how to walk a tightrope - presumably, for the first time.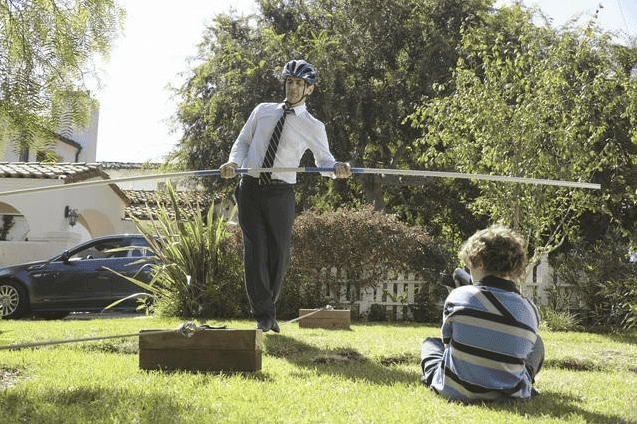 However, in an earlier Modern Family episode, Phil proudly states that he knows how to walk a tightrope - because he went to trapeze camp. 
19. Pretty Little Liars: Upside Down Phone
This mistake is especially funny because the first to notice it was the actress herself: Lucy Hale, who plays Aria on Pretty Little Liars, took to Instagram to let fans know about the amusing phone conversation she had on the show.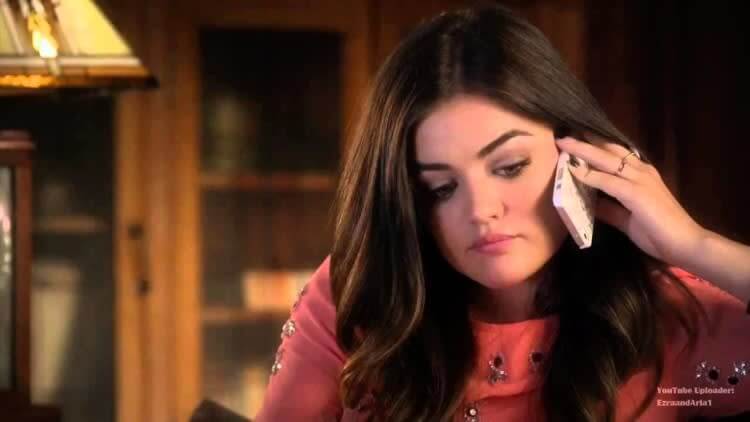 "Aria, girl your phone be upside down in last night's episode", wrote the actress. 
20. The X-Files: Wedding Ring
In the episode Travelers David Duchovny's character, Special Agent Mulder, is seen wearing a wedding ring, even though Mulder was never married on the show - and there is no explanation for the ring.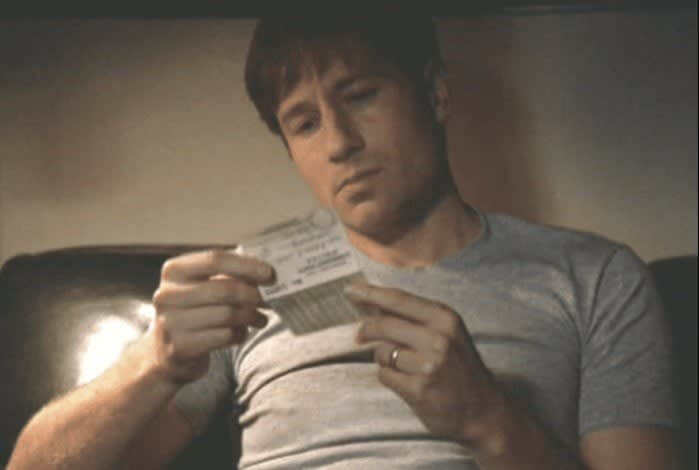 Turns out, Duchovny had just married actress Téa Leoni in real life, and wanted to keep wearing his wedding ring during the shooting. 
21. Boy Meets World: Topanga's Parents
Poor Topanga - her parents kept changing on her: five different actors played Topanga's parents over the course of the show.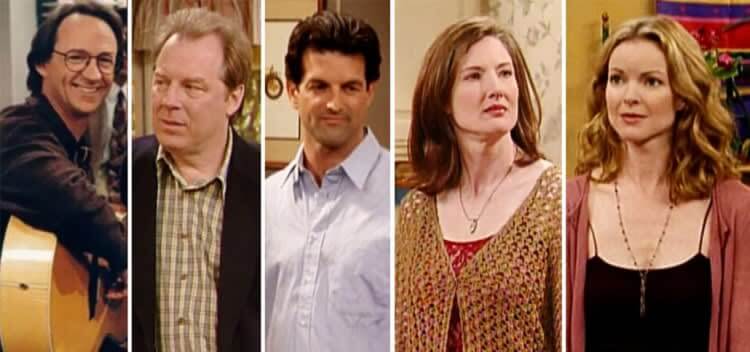 Three different actors - Peter Tork, Michael McKean, and Mark Harelik - played her father, Jedidiah Lawrence, and two actresses - Annette O'Toole and Marcia Cross - played her mother, Rhiannon Lawrence. Talk about a stable home. 
22. Firefly: Invisible Steering Wheel
In the first episode of the cult show, the spacecraft Serenity successfully escapes an enemy ship. While the crew celebrates their success, we see Wash's character still sitting at the pilot's seat.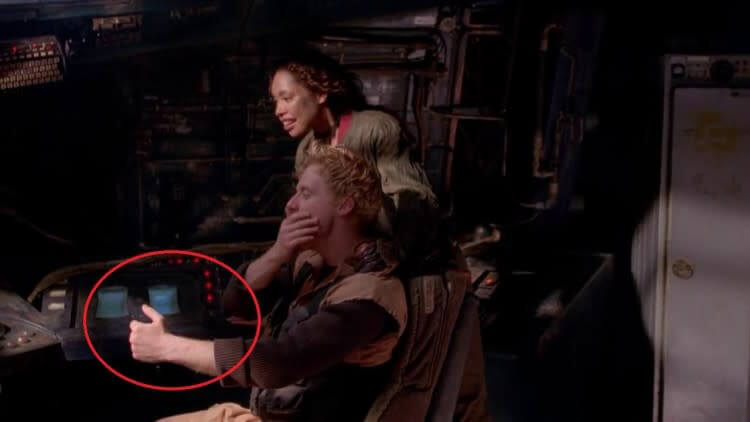 Strangely enough, he still seems to hold onto the steering wheel - that is just not there. 
23. The Good Place: Janet's Help
On the episode What We Owe to Each Other, when Janet, the loyal assistant, needs to provide Eleanore and Michael with some documents, she also requires some help: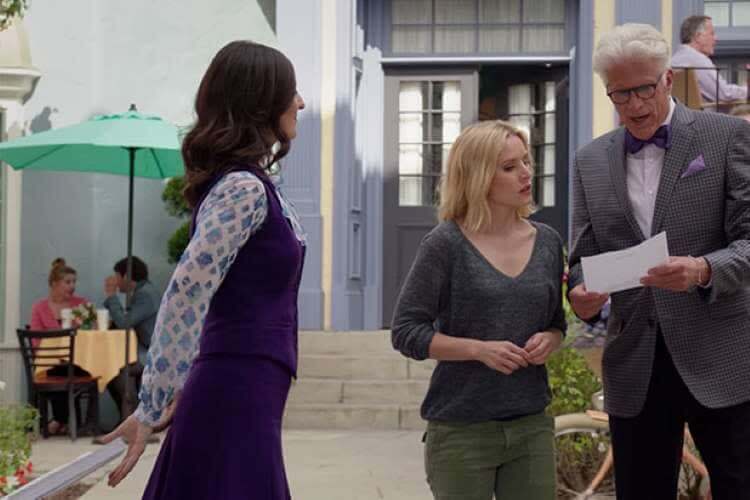 Viewers can clearly see a crew member hand Janet a stack of papers, and she catches them behind her back.
24. Jane the Virgin: Breathing Mask
In an episode of Jane the Virgin's last season, Petra's mom Magda is hospitalized, and in one of the scenes is seen lying in a hospital bed, wearing a breathing mask.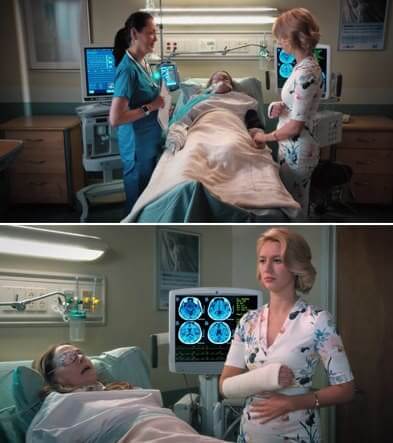 But then, the breathing mask somehow disappears in the next shot. Miraculous recovery? We hope so, for Magda's sake. 
25. Gossip Girl: Black Sweatpants
In season 6, Blake Lively's Serena van der Woodsen is having lunch at a restaurant, wearing a body-hugging coral dress - But during one shot, she is seen leaving the restaurant wearing a pair of black sweatpants under the dress.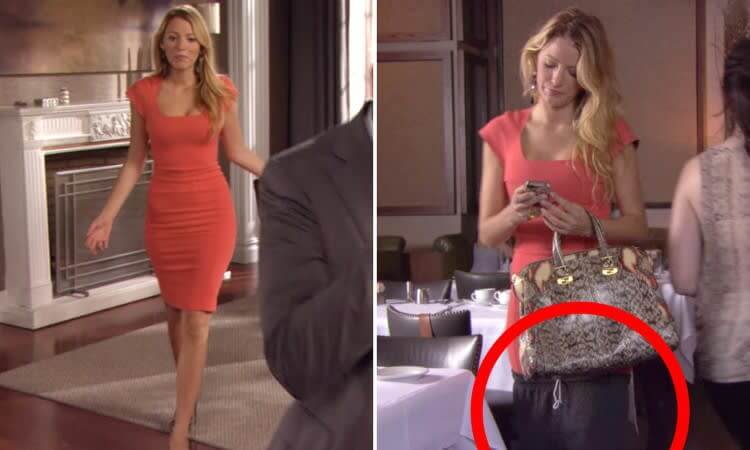 The obvious explanation is that Lively was wearing comfy pants since the scene was meant to be framed from the waist up, but luckily the funny combo was caught on camera. 
26. Supernatural: What's in a Name
In the episode Provenance, Sam and Dean investigate a gruesome crime.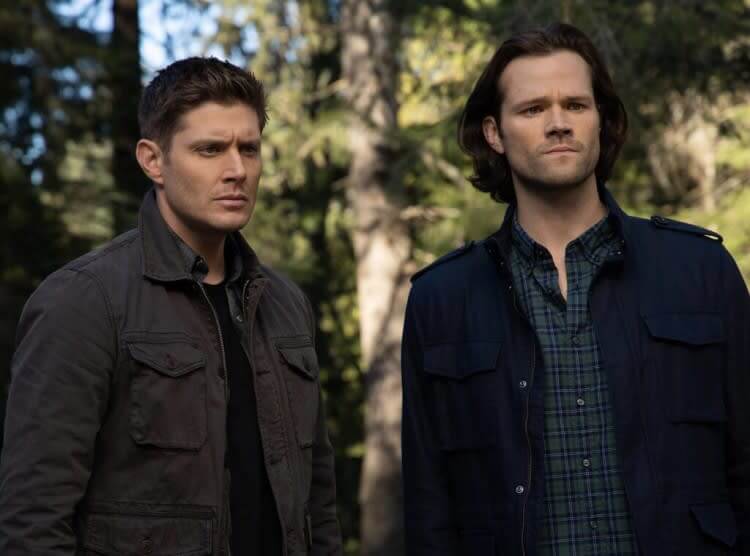 And it must be quite a shocking one indeed, as during one scene Dean wants to draw Sam's attention - but instead of calling him Sam, he calls him Jared, i.e. actor Jared Padalecki, who plays Sam. 
27. Family Matters: Judy Winslow
In the first seasons of Family Matters, daughter Judy was a recurring character and an important member of the Winslow clan.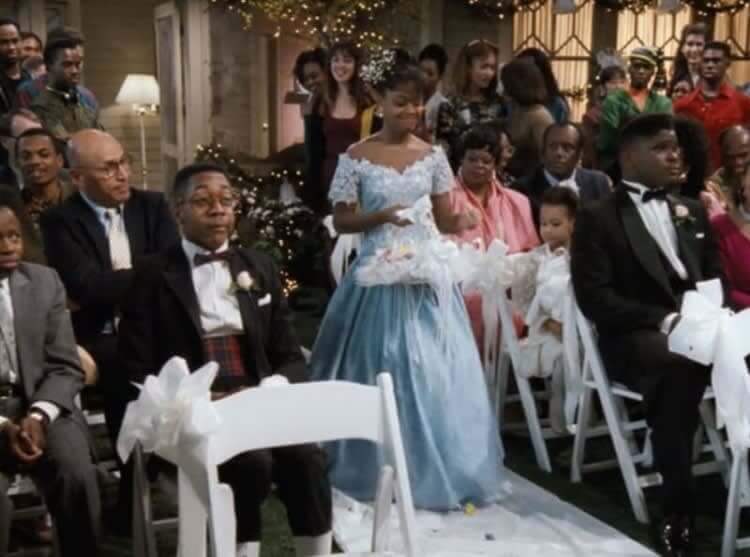 However, in season 4, when Judy is just 14, she mysteriously disappears after Mama's Wedding episode - never to be seen or heard of again, with other family members acting as if she's never existed. 
28. The Crown: Coronation Date
In the third season of The Crown, which takes place in the 1970s, Olivia Colman steps in to play an older version of Queen Elizabeth II.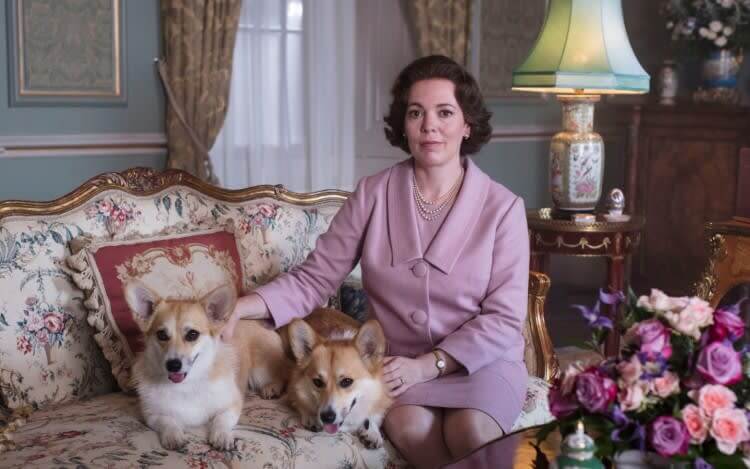 But the trailer for the much-awaited new season included a fundamental mistake: it got the Queen's Jubilee Day wrong, saying it happened 25 years after her coronation, when in fact it took place 25 years after she ascended the throne (1952), and not since her coronation (1953). 
29. The Sopranos: Kitchen Burn
In a dramatic scene, Tony Soprano kills Ralph in his kitchen, and then throws up and stumbles through the room trying to regain his balance.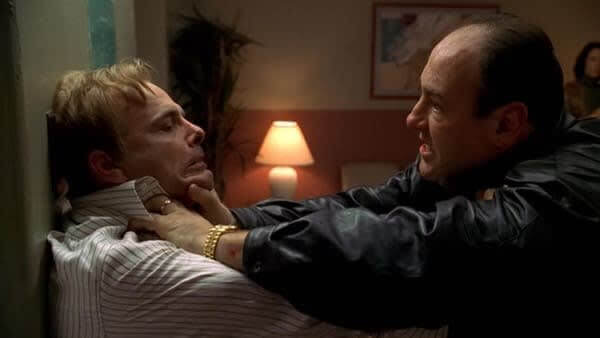 When actor James Gandolfini leans on against the kitchen counter for support, he burns his hand on the stove - for real. Being the incredible actor that he was, he did not break character even despite the pain, and the director understandably decided to leave the burn in the scene. 
30. ER: Dr. Ross's Baby
Did Dr. Doug Ross have a child before starting a family with nurse Hathaway? No one seems to know for sure.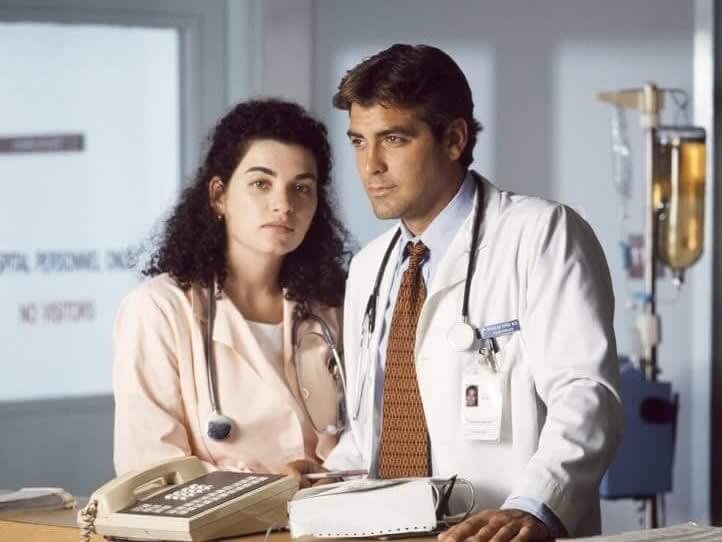 In ER's first season, the dreamy pediatrician reveals that he has a son, though he's never met him and doesn't even know his name. However, in later episodes he says that he himself has never had kids. 
31. Glee: Rachel's Dads
The actors that played Rachel's dads changed from the photo we see in season 1, to actors Jeff Goldblum and Brian Stokes Mitchell in season 3.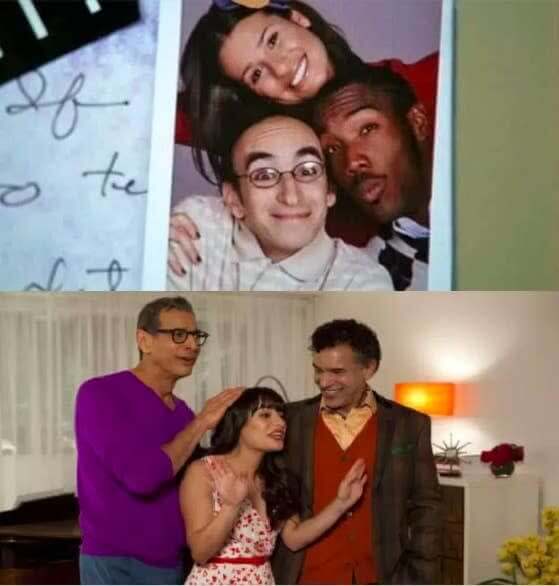 In addition, in season 2 we were told that Rachel was given up for adoption as a baby, but in a later episode her dads say that she was in fact a surrogate baby.
32. Orange is the New Black: Sazón
In season 5, Flaca and Maritza film a beauty tutorial vlog, where Maritza explains how she uses different spices to contour her face, instead of using ordinary makeup that is unavailable in prison.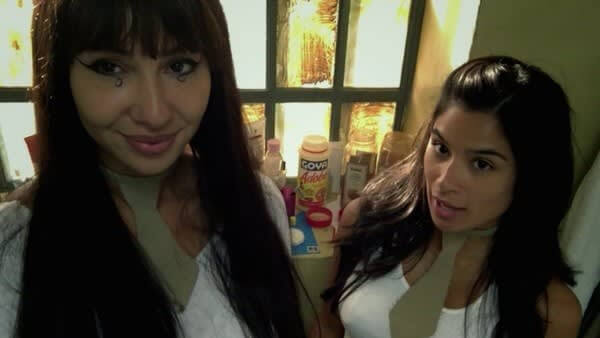 She mentions three spices: cinnamon, cumin and finally Sazón Goya - but she's mistakenly pointing at Sazón Adobo, a completely different spice. This tiny mistake actually caused quite a bit of internet stir, and Netflix responded by tweeting a re-shot version of the scene - this time with the correct spice.
33. Mad Men: Le Cirque Restaurant
Even though Mad Men was famous for the way it accurately captured and portrayed the 1960s landscape, down to the smallest details, it made one rare - and now famous - mistake.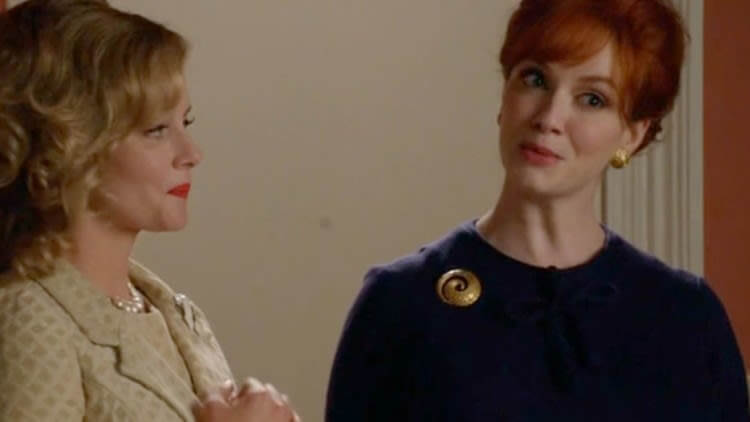 In one scene, Joan meets an old friend and offers to make a reservation at Le Cirque restaurant - but the show is set in 1968, and the legendary Manhattan restaurant only opened six years later, in 1974. 
34. Homeland: The Diplomat's Reflection
When Carrie interviews Saudi diplomat Mansour Al-Zahrani in a bright room full of windows, his story is not the only thing exposed.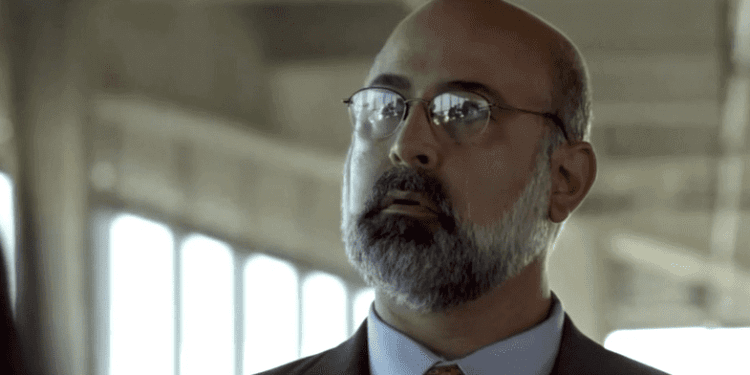 Though they are supposed to be alone in the room, Al-Zahrani's glasses reveal all the show's crew members in their reflection. 
35. Friends: Monica and Rachel's Apartment
When Friends first started, Monica and Rachel lived in apartment number 5, while Joey and Chandler lived next to them in apartment number 4.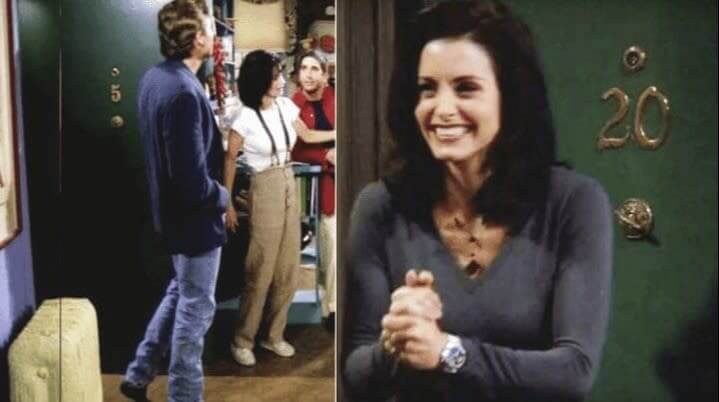 However, the show's art department felt like number 5 didn't suit the view from Rachel and Monica's apartment - which showed it was on one of the building's upper floors. And so, by season 2 they just 'moved' the girls into apartment #20. 
36. Downton Abbey: Plastic Bottle
in a promotional photo for the 1910s costume drama, Lord Grantham and Lady Edith are posing by the fireplace - with a modern-day plastic bottle proudly standing on the mantelpiece.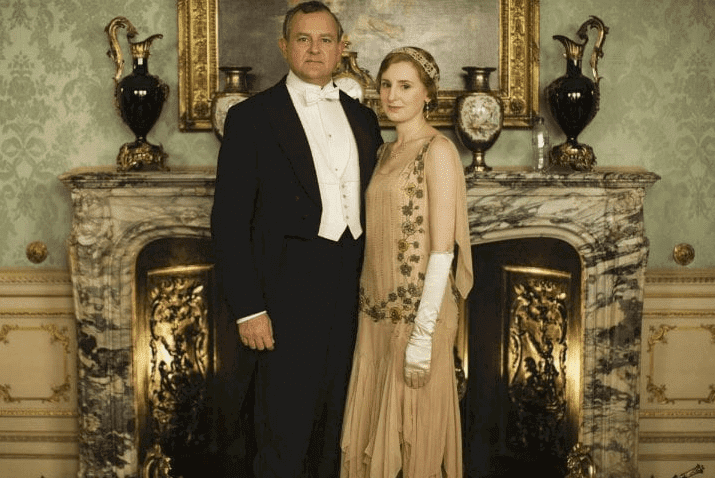 Plastic bottles were not in wide use in the UK until the 1960s - decades after the show takes place. 
37. Twin Peaks: The Man in the Mirror
Twin Peaks' first seasons featured Killer BOB, a demonic entity that haunted the town's residents. But it turns out that Bob's creation was a pure mistake.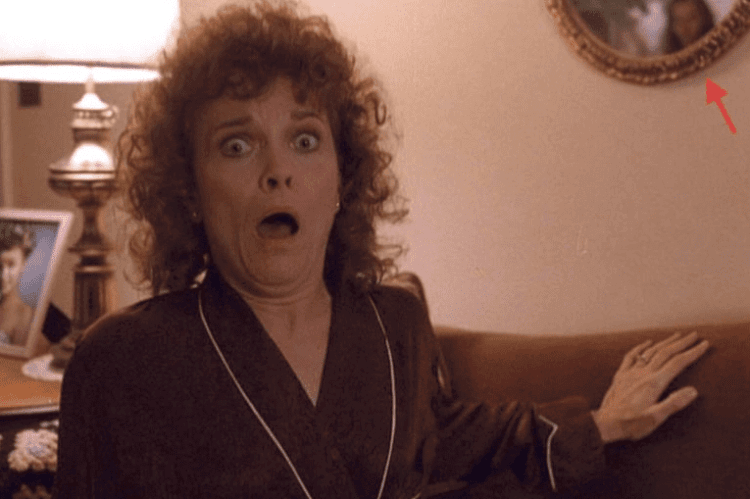 Actor Frank Silva wasn't originally hired to play Bob, but rather worked as an on-set dresser for the show. When Silva accidentally ended up in a shot – his reflection captured in a mirror behind actress Grace Zabriskie - director David Lynch decided to incorporate a new character into the story. 
38. The Tudors: Violin
In season 2, musician Mark Smeaton is seen playing the violin. But, unfortunately, in 16th-century England, where the show is set, modern violins (as the one Smeaton is playing) did not yet exist.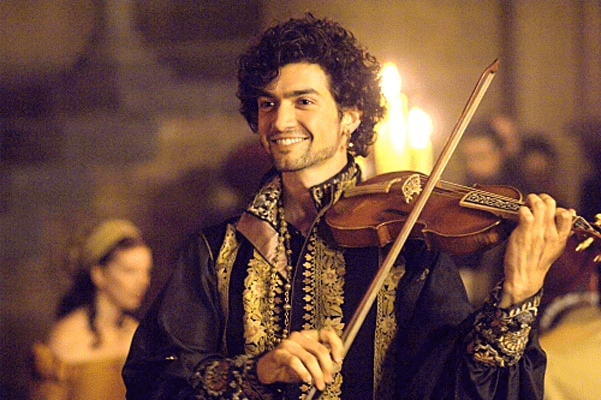 In addition to the historical inaccuracy, the placement of the instrument and the fingers is also wrong.
39. The Simpsons: Baby Maggie
In the episode And Maggie Makes Three, a pregnant Marge tells Homer that they're going to have another baby – Maggie, their third child.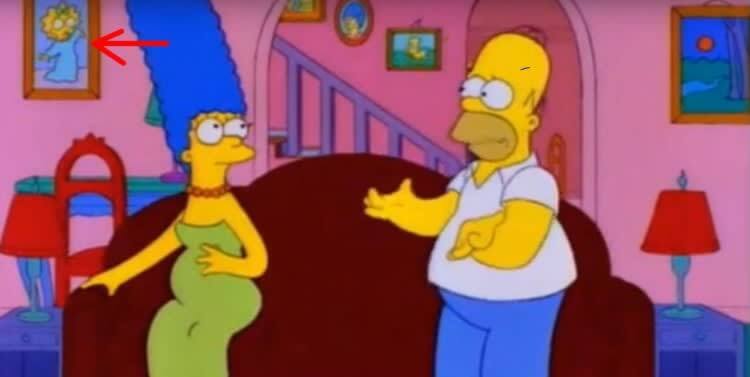 But, baby Maggie is already seen in a photo on the wall behind Marge - when she's telling Homer she's pregnant with... Maggie.
40. Friends: Monica's Stand-In
A stand-in is someone whose job is to occupy an actor's place while lights and cameras are readied - but never to be seen once filming starts.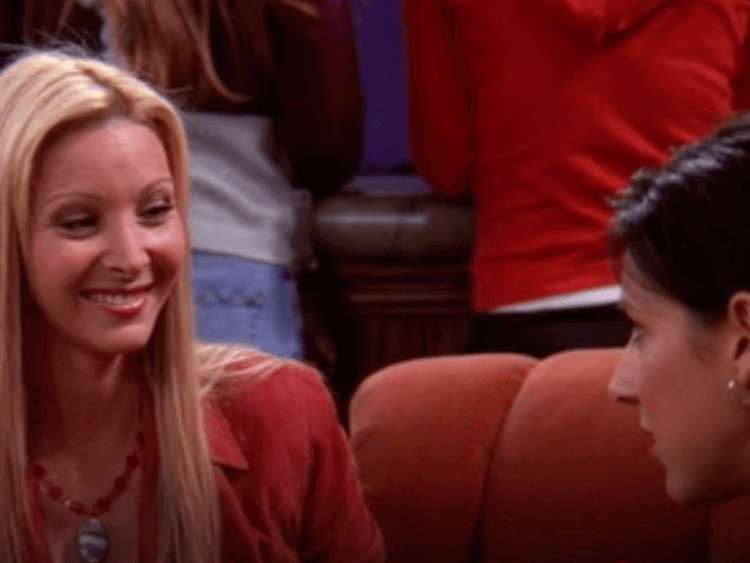 However, in the episode The One With Rachel's Date, the camera goes back and forth between Phoebe and Monica who are talking, but when it zooms in on Phoebe, we discover that she is actually sitting chatting with Monica's stand-in, and not with Courtney Cox. 
41. Lost: Mysterious Black Object
In Lost's pilot episode, we watch the survivors of Oceanic Flight 815 take cover from an exploding jet engine - when just before a big black object flies in, and seems to trigger the explosion.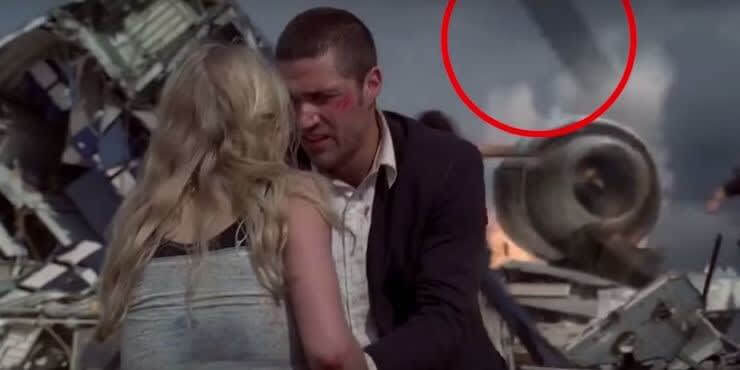 Many theories tried to explain the meaning of this object until the showrunner explained it was just a result of an error in the CG effect.
42. Battlestar Galactica: Visible Crew Members
In the episode Flight of the Phoenix, we see a fight scene ensue between Tyrol and Helo - but they are not alone.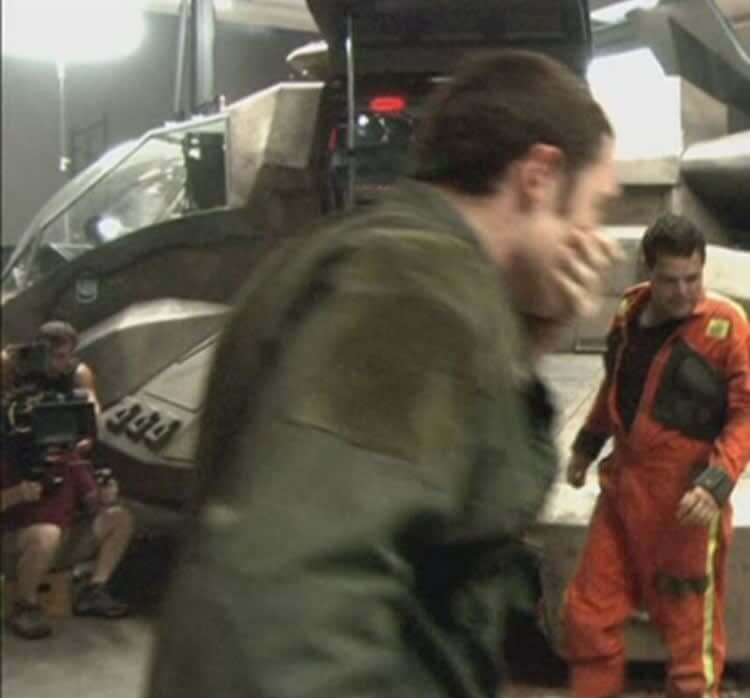 To their left, we also see two very visible camera operators, who are there to record the fight from another angle. 
43. The Walking Dead: Infection
The Walking Dead survivors gradually learn that they can't avoid the virus, which is airborne, and they realize they have all already been infected - and will all become Walkers once they die.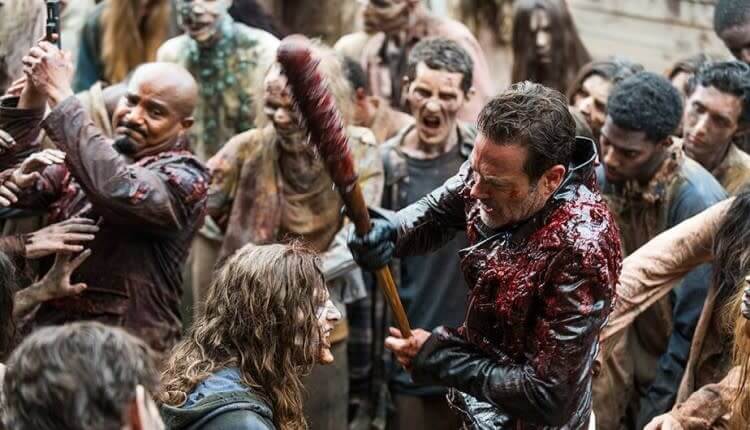 However, the story shows a lack of consistency, when in season 8 the Saviors coat their weapons in zombie-guts, in order to infect their enemies. Who, by the show's logic, should already be infected.